Marvel Casting: Mads Mikkelsen To Be 'Thor 2' Baddie; Ashley Hamilton In Talks For 'Iron Man 3'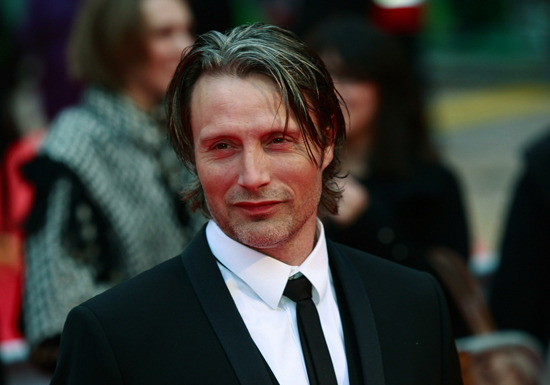 A couple of notable casting choices for upcoming Marvel movies hit this afternoon, and let's start with Mads Mikkelsen, who is in talks to play the bad guy in Thor 2. We don't know much about the plot for the Alan Taylor-directed film at this point, and we don't know what role Mikkelsen will play. Tom Hiddleston will still be around as Loki, but we don't know how he fits into the story, either. Many questions. We do know that Marvel Studios president Kevin Feige has said that Thor 2 will have another big villain aside from Loki, and so now we have an actor to pin to the question mark role.
I also know that Mikkelsen is a great presence, and an actor whose work I greatly enjoy. I was sad that he didn't end up leaving the greatest mark on Casino Royale when playing the antagonist in Daniel Craig's first Bond outing, but I can always go back to his great work in three films from Nicolas Winding Refn: the first two Pusher films , and Valhalla Rising.
Thor 2, with Chris Hemsworth in his third outing in the title role, is scheduled for November 15, 2013, and should shoot later this summer. [Variety]
After the break, Ashely Hamilton joins the cast of Shane Black's Iron Man 3 as the villain Firepower, and we've got confirmation of previous rumors about the film.
Variety says that Ashley Hamilton will be Firepower, but more specifically that the third Iron Man movie does indeed "borrow elements from Warren Ellis' six-issue "Iron Man: Extremis" ... and focuses on the spread of a virus through nanotechnology." So that's one long-standing rumor that seems to be confirmed.
But who is Firepower? Here's a recap:
Jack Taggert worked on an experimental pilotable suit for Project: Firepower for Edwin Cord (the rival businessman of Tony Stark). The project was ostensibly designated by the U.S. Armed Forces, in conjunction with Senator Boynton, to serve as an ultimate deterrent against opponents of the United States. However, when Iron Man launched his "Armor Wars", attacking armored villains and even government agents without provocation, the Firepower program was modified with the specific goal of stopping Iron Man.
More important may be the fact that after one defeat by Iron Man, Firepower is given a new suit by the Mandarin, who recruited him in a new fight against Stark. There has been rampant speculation that the Mandarin will actively figure in this third Iron Man film, so even as we have one rumor confirmed, another is left open.
Shane Black wrote Iron Man 3 with Drew Pearce; he begins shooting the film shortly. It has a May 3, 2013 release date. Robert Downey Jr., Gwyneth Paltrow, and Don Cheadle return, and Guy Pearce, Ben Kingsley, James Badge Dale and Rebecca Hall join the cast.