TV Bits: Read The Leaked 'Community' Talking Points Memo From NBC, Plus: 'Mockingbird Lane', 'Game Of Thrones', 'Spartacus', 'True Blood'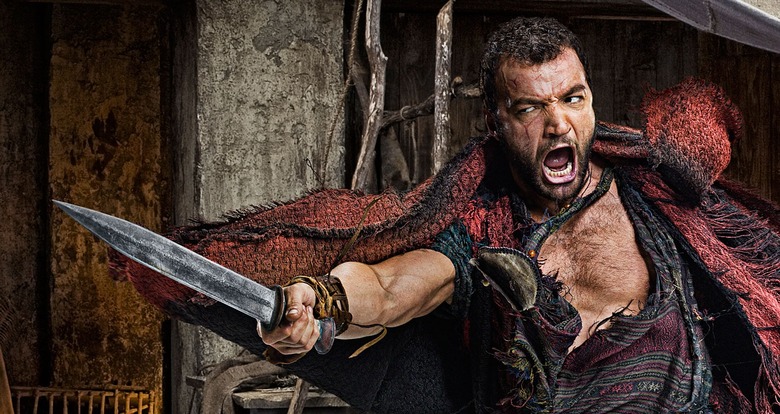 The latest development in this sad Dan Harmon / Community saga is a leaked memo from NBC instructing the shows actors on how to handle the topic while speaking to the public. Honestly, it's not so much that the note itself is unreasonable or dishonest, but that now it'll be tough not to listen for these same talking points when we see Joel McHale or Alison Brie field questions about it on some late night talk show.
Happily, the rest of today's TV Bits are a little more cheerful:
NBC's Mockingbird Lane casts a Spy Kid as its Eddie Munster
HBO Zone announces a Game of Thrones Season 2 marathon
Starz hopes you'll tune in to its Spartacus marathon a few days later
True Blood's new promo has lots of sex and violence
The character of Eddie is described as a well-meaning boy scout just coming to terms with his werewolf nature. Unhappy with that unpleasant truth about himself, he tries to forgo meat, which is met with disapproval from Grandpa. Major roles still to be cast include Eddie's parents, Herman and Lily Munster. Filmmaker Bryan Singer is set to direct the pilot, which is written by Pushing Daisies creator Bryan Fuller. [Deadline]
The second season finale of HBO's Game of Thrones is fast approaching, but don't worry if you've fallen a bit behind over the last several weeks — HBO Zone is making sure you still have a chance to catch up. The channel will be air the first nine episodes of Season 2 three times in a row, with the first run starting Saturday, June 2 at 6:00 PM. The second airing kicks off Sunday, June 3 at 3:00 AM, followed by one last run at 12:00 PM.
The finale, titled "Valar Morghulis," will then air at 9:00 PM on Sunday. And then it'll be time to say goodbye to Game of Thrones for ten months or so. [Screen Crush]
But hey, maybe you can spend those months catching up on another violent, sexy, premium cable epic. Starz plans to revisit every episode of its historical sword-and-sandal Spartacus a few episodes at a time beginning Friday, July 8 with the first three episodes of the prequel miniseries Spartacus: Gods of the Arena. Season 1, titled Spartacus: Blood and Sand, will then kick off June 22, while Season 2, titled Spartacus: Vengeance, will get started July 20 and run through August 10. Hit Collider for a detailed schedule.
Fans' joy over the fourth season renewal of NBC's Community quickly turned into seething rage this past weekend with news that the network had fired showrunner Dan Harmon. In an effort to help its stars navigate the sticky situation, NBC has sent out an internal memo outlining talking points to use while speaking with press and fans — but someone who got their hands on it went one further and leaked the whole thing to the web. Read it in its entirety below:
Team Community:
With last night's news of David Guarascio and Moses Port as new showrunners/EPs on "Community" running in the press, and since we know that cast members have interviews coming up this week, I wanted to forward some messaging we hope our cast will find helpful as they navigate questions that will undoubtedly come up. I know that David and Moses are reaching out to them all directly but I've also heard from some of the actors that they'd like some guidance on the topic.
I saw some of the tweets that went out and we're glad they all addressed their own sentiments quickly, and we're hoping that the news will lose some steam over the next day, especially if we're not perpetuating the topic in any way
We're tracking the coverage and conversation and will circle back if we feel the need to reshift our plan or messaging. Please let me know if you have questions.
Why did Dan get let go from the show?
We're not made aware of why staffing changes take place but I will always be grateful to Dan for his great work on the show and wish him only the best. We're also excited that we'll be back on NBC's schedule in the fall and are looking forward to working on those episodes.
Were you aware that Dan was going to be let go?
No, that's not something we're consulted on. I'm sad to see him go but I am looking forward to starting our next 13 episodes of "Community."
Did the studio or network consult with you about these changes?
No they didn't but we're looking forward to working with David Guarascio & Moses Port on a new season of Community.
What are their plans for the new season?
It's a little early to say at this point but we're looking forward the stories our characters will find themselves in come Sept.
If this looks bad, it's only because it serves as a reminder that not everything the cast and crew say in public is the unfiltered, unvarnished truth, and may consequently cast doubt on the sincerity of their statements about Harmon's outing. But there's nothing in here that's actually devious or unreasonable. It's perfectly understandable for the network to try and get everyone on the same page during this turbulent transition period.
Anyway, since we can't bring Harmon back maybe it's time we redirected our attention to freaking out about the other bad omens for the fourth season of Community — like the fact that it'll only be 13 episodes, or that it'll air during the Friday night death slot. Sigh. [THR]
Let's end on a more positive note. HBO's True Blood may not be as buzzed-about as it once was, but as evidenced by this new teaser, the upcoming season still promises plenty more of the gleefully over-the-top fun of the last four seasons.
After the gloom and doom of Game of Thrones, I think I'll be ready for something a little lighter. Won't you? True Blood returns for its fifth season Sunday, June 10. [via Screen Crush]