'Abraham Lincoln: Vampire Hunter' Red-Band Trailer - Heads Will Roll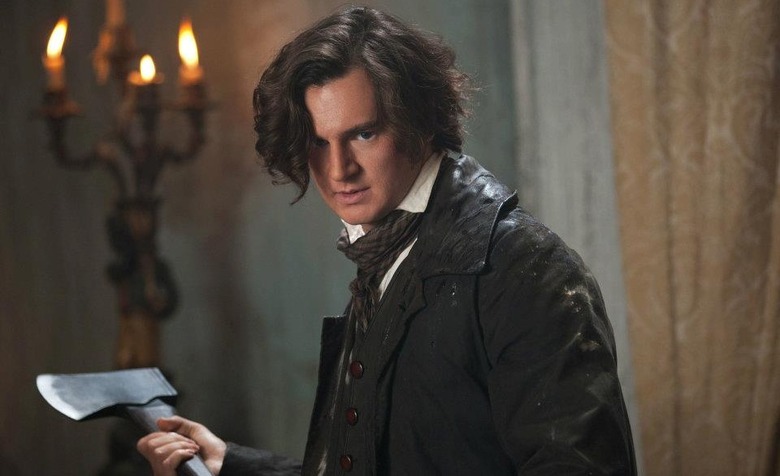 So far, the footage we've seen from Abraham Lincoln: Vampire Hunter has been, well, pretty much exactly what you'd expect from a movie called Abraham Lincoln: Vampire Hunter. The "secret history" of our 16th president's double life as a hunter of supernatural monsters is a premise that's deeply silly but potentially entertaining, and accordingly, the first trailers have been both kind of dumb and kind of cool.
But I do have one big quibble, and it's that we haven't seen nearly enough actual vampire hunting. Honest Abe (Benjamin Walker) wields his axe pretty much constantly in the footage we've seen so far, but where's the satisfying splatter of blood and guts? Fortunately, the new red-band trailer rectifies that situation, offering up plenty of bloodshed, several explosions, a couple of decapitations, and even a bit of what the MPAA might call "brief sensuality." Watch the NSFW video after the jump.
[via IGN]
It's impossible to tell from this point whether Abraham Lincoln: Vampire Hunter will turn out to be zippy popcorn entertainment a la Fast Five or a muddled, overwrought mess a la Cowboys & Aliens. But at least it doesn't skimp on the violence, and it looks plenty slick thanks to director Timur Bekmambetov.
Based on a novel by producer Tim Burton's new BFF Seth Grahame-Smith, Abraham Lincoln: Vampire Hunter also stars Dominic Cooper, Anthony Mackie, Rufus Sewell, and Mary Elizabeth Winstead. It hits theaters June 22.
Synopsis:
The film explores the secret life of our greatest president, and the untold history that shaped our nation. As a young boy, Abraham Lincoln (Benjamin Walker) witnesses the shocking death of his mother, leading him on a path to an ongoing war – and ultimately to the presidency – he chronicles in a hidden diary. The journal reveals the incredible story of a clandestine warrior who never stopped fighting for the country he led and the people he loved.