'Life Of Pi' Moves To Thanksgiving; Vince Vaughn And Owen Wilson's 'The Internship' Lands Next Summer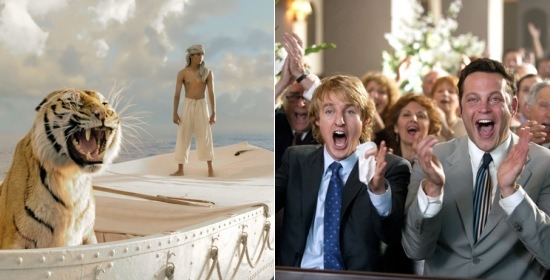 As Paramount's G.I. Joe: Retaliation heads into next spring and Universal's Ted moves up into G.I. Joe's old date, Fox is making a few edits of their own to the upcoming release calendar. Ang Lee's Life of Pi has been shifted away from hyper-competitive late December to Thanksgiving weekend, while the Wedding Crashers quasi-reunion The Internship has landed on a summer 2013 date. Read more details after the jump.
So Life of Pi has now been shifted again to November 21, where it should have a bit more room to breathe — especially since Alfonso Cuarón's Gravity and Carl Erik Rinsch's 47 Ronin just vacated that same slot to move into 2013. The new date puts Lee's 3D adaptation of Yann Martel's acclaimed novel against David O. Russell's The Silver Linings Playbook, DreamWorks Animation's Rise of the Guardians, and the Red Dawn remake.
Meanwhile, the studio has penciled in The Internship for a wide opening on June 28, 2013. The only other film currently scheduled for that exact date is the comic book adaptation R.I.P.D., though there are a few other heavyweights scheduled for earlier that month: the Seth Rogen comedy The End of the World, Pixar's Monsters University, the Superman reboot Man of Steel, and the horror adaptation World War Z.
Real Steel helmer Shawn Levy is signed on to direct The Internship, but the real draw is its reunion of Wedding Crashers co-stars Owen Wilson and Vince Vaughn. Which means you should probably expect to hear it quoted endlessly for many, many months following its mid-summer release.
[Source: 20th Century Fox Twitter]