'G.I. Joe: Retaliation' Moved To March 2013 For 3D Conversion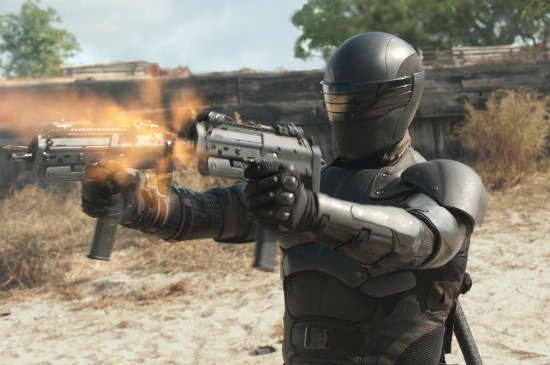 Things were going so well for G.I. Joe: Retaliation. Fans were responding really well to the trailers, director Jon Chu was talking up how it's the movie he really wanted to see as a G.I. Joe fan, the release date was approaching and everyone was excited.
Paramount has now decided to forgo that positive buzz and bump the film back nine months, from June 29 to March 29, so it can be converted to 3D. We weight the positives and negatives after the jump.
The Hollywood Reporter first tweeted about this news which is, frankly, shocking after all those reasons mentioned above.
So why the move? "We're going to do a conscientious 3D job because we've seen how it can better box office internationally" one studio executive told Deadline. Thanks a lot, Battleship. Let's go down both sides of the argument.
On the positive side, June 29 placed the film in near direct competition with The Amazing Spider-Man and, as we've seen with The Avengers, a huge superhero movie can completely cannibalize box office. Next March, on the other hand, is a little more open when it comes to male-orientated action. (There's Jack the Giant Killer and Oz The Great and Powerful but Joe is different enough from those). Of course, there's also the simple dollars and cents of it. 3D movies charge more per ticket which means more money for the studio.
But a conversion this late in the game does suggest they're going to need that extra $2-$3 per ticket. Is that because the film isn't that good? It certainly feels like it. Of course it's possible this is an artistic decision and Jon Chu, who used 3D on a few of his previous movies, just wanted to present this huge action film in that format. If that's the case though, wouldn't he have made that decision months and months ago?
Plus, if he didn't shoot the film with 3D in mind, a conversion can be a total nightmare. Nine months, though, should be ample time to really straighten it out.
What do you think? Is this a good move for the better of the movie or a reactionary move because the film is a bomb?
G.I. Joe Retaliation  stars Dwayne Johnson, Channing Tatum, Bruce Willis, Adrianne Palicki, D.J. Cotrona, Byung-hun Lee, Ray Park, RZA, Joseph Mazzello, Elodie Yung, and Walton Goggins.