'Jaws' Bits: 'Inside Jaws' Documentary Trailer, Film Reclassified In UK For Upcoming Re-Release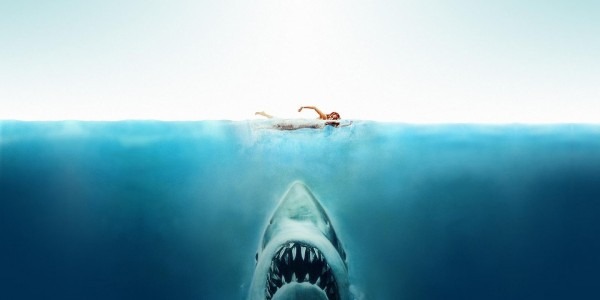 Summer is coming, so it's almost the prime season to revisit Jaws. Steven Spielberg's 1975 film was the first modern summer blockbuster, and effectively signaled the decline of the New Hollywood movement and the beginning of the studio era we know now.
Regardless of the effect Jaws had on the Hollywood business landscape, it stands as one hell of a film. The characters are sharply drawn, the performances are entertaining and don't merely wade in the dramatic shallows, and the filmmaking craft of Spielberg and his crew is top-notch.
You'll get to see just how good that craft was when Jamie Benning releases his online doc Inside Jaws: A Filmumentary. Benning has already chronicled the making of the original Star Wars trilogy as well as Raiders of the Lost Ark, and he's proven to be a master at collating footage, interviews, photos and other disparate elements that help paint a total picture of the making of these films. If Inside Jaws is even vaguely as thorough as Benning's other films, it'll be a keeper.
See a trailer for the doc below, and read info about Jaws getting a new, slightly more restrictive rating in the UK.
Inside Jaws will be online this August. Thanks to FirstShowing for pointing out this teaser.
And then there's news of a new UK classification (rating) for Jaws. It has long been classified PG, but has now been bumped up to the very slightly more restrictive 12A (children 12 and under admitted only with an adult) certificate.
WhatCulture says that Jaws, which will be re-released in UK cinemas on June 15,
..was first released uncut in 1975 with an 'A' certificate – which meant that the film may be unsuitable for younger children. Following its theatrical release, Jaws was then later certified as 'PG' for all subsequent releases on VHS and DVD.
When Jaws was released there was nothing between PG and the 15 classification, and so it and some other similar films (like Ghostbusters) were given the lower rating. The 12 certificate was introduced in 1989, and modified to 12A in 2002. Now that Jaws is being re-released in theaters it has been resubmitted to the BBFC, and so the more appropriate 12A rating was issued.