James Bobin In Talks, Zach Galifianakis Attached To 'A Confederacy Of Dunces'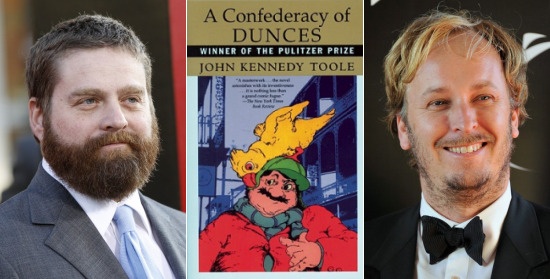 There are long-simmering projects, and then there's A Confederacy of Dunces. A cinematic adaptation of John Kennedy Toole's canonical novel has been in development since the early '80s, and has gone through many hands in the decades since with no success. But Hollywood keeps trying, and now the latest big names to try and crack it could be Zach Galifianakis and The Muppets helmer James Bobin. More details after the jump.
The history of A Confederacy of Dunces is so rocky that the project seems downright cursed. The source material itself only barely made it to publication, as Toole's mother Thelma Toole found the manuscript after her son's suicide in 1969. She managed to get it printed in 1980 through sheer perserverance, stubbornly pressing various publishers and authors to read it. Once A Confederacy of Dunces was released, however, it gained wide acclaim, picking up the Pulitzer Prize for Fiction in 1981.
The movie version has had, if anything, an even tougher go of it. Harold Ramis first began working on the film in 1982, but possible star John Belushi died of an overdose just days before the two men were scheduled to meet. Belushi's death turned out to be the start of a streak of horrible luck for the movie, as two more potential leads passed away in the next decade — John Candy in 1994 and Chris Farley in 1997. Since then, the part has also passed through the hands of Philip Seymour Hoffman and John Goodman.
Most recently, David Gordon Green was signed on to direct a version that had Will Ferrell set to star, but for whatever reason that never took off, either. Maybe it's just as well, as Ferrell's The Campaign co-star Galifianakis could turn out to be an even better pick for the role. Here's a description of the character, via a fascinating article on Slate that examines A Confederacy of Dunces' complicated history:
The book explores the misadventures of Ignatius J. Reilly, a 300-pound antihero who resides with his mother and is given to leisurely strolls around his native New Orleans, during which he levies his incisive judgments on everything he encounters. As described by Percy in the book's foreword, Ignatius is a "slob extraordinary, a mad Oliver Hardy, a fat Don Quixote, a perverse Thomas Aquinas rolled into one." And for all of the novel's literary qualities—the sensory-specific perfection of Toole's descriptions of New Orleans, the loopy gracefulness of his prose, and his gift for black comedy—it is the creation of Ignatius that stands as its signature achievement.
It doesn't take a stretch to imagine Galifianakis in that part, and Bobin's work on The Muppets, Flight of the Conchords, and Da Ali G Show suggests that he could be a good fit for the tale's satirical tone. Here's hoping the pair have better luck than their predecessors have had.