Watch River Phoenix's Final Performance In Footage From 'Dark Blood' - And The Director's Plea For Help In Finishing The Movie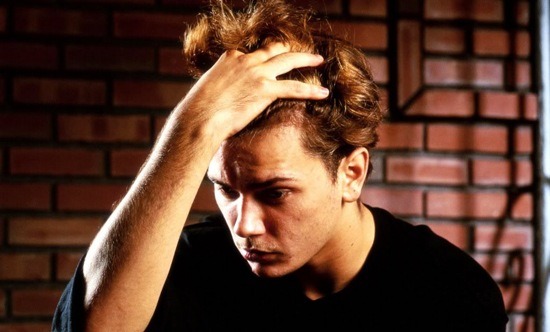 Earlier this week, the first footage from Paul Thomas Anderson's The Master caught the excited attention of the cinephile universe, especially those who'd been eager to see Joaquin Phoenix return to form after his bizarre foray into whatever I'm Still Here was supposed to be. But incredibly, Joaquin may not be the only Phoenix brother slated to make a long-awaited return to the movie theater.
Last fall, director George Sluizer told press he was working on finally finishing and releasing Dark Blood, the drama that Joaquin's older brother River Phoenix was working on when he died of a drug overdose outside Los Angeles' Viper Room nightclub in 1993. Now, in an effort to raise money for post-production, Sluizer has released a trailer that includes never-before-seen footage of the film, along with a personal explanation of why he finally decided to pick up the project again after all these years. Watch both after the jump.
Seeing much younger versions of Davis and Pryce really drives home how long it's been since Dark Blood first got underway — and how sad it is that Phoenix's life was cut short so suddenly and so soon all those years ago. But it's also clear why Phoenix got so much hype back in the day. Though we only get a few minutes of footage, it's enough to note his powerful magnetism as a big-screen star.
While it's a little surprising that Sluizer would decide to delve back into a project that fell apart so many decades ago, the filmmaker explained his motivations in a video and accompanying statement on the Dutch crowdfunding site CineCrowd. In a plea for help, Sluizer says that he was moved to complete Dark Blood after being diagnosed with an aneurysm a few years ago, and that he hopes the finished product will serve as "[his] tribute to River Phoenix."
Since March 2012, George Sluizer and editor Michiel Reichwein started editing Dark Blood. It is intended that the film will have its world premiere at the Dutch Film Festival later this year, provided the post-production budget gets fully funded. Besides editing, there is also a budget needed for sound editing, music composing & recording, color correction and mixage. The Netherlands Film Fund will supply a part of the post-production budget needed. There rest of the budget will be raised by George Sluizer himself.
Therefore George Sluizer needs your help to fund the last part of this special feature and complete it for public display in September.
Last year, Sluizer claimed that he would be working with Joaquin Phoenix to finish Dark Blood, only to be contradicted days later by a statement from the Phoenix family denying any involvement in the revived project. But if you're interested in helping to bring Dark Blood to completion, head to CineCrowd for more details.
[Source: Movies.com]