Charlie Kaufman And Catherine Keener Teaming Up For HBO Comedy Series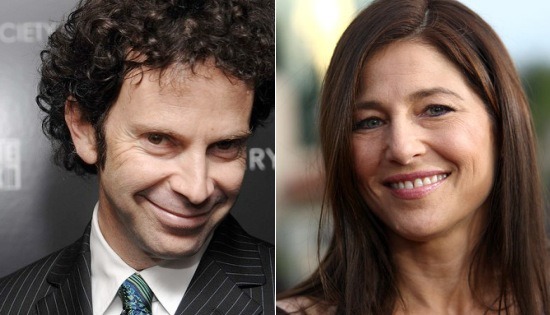 Technically, HBO is television, no matter what their highfalutin slogan claims, but when they make room for wonderful ideas like this one I can kind of see their point. Charlie Kaufman and Catherine Keener, who last worked together on Kaufman's directorial debut Synecdoche, New York, are set to team up at the premium cable channel for a new half-hour comedy. Keener is set to star and produce, while Kaufman will write, direct, and executive produce. More details after the jump.
There's no word yet on when the series will air, but as the network's put it on the fast track, hopefully we'll be seeing it sooner rather than later. If and when it hits, Kaufman and Keener's new show will join an exceptionally strong stable of female-led comedies at HBO, which also includes the Julia Louis-Dreyfus-starrer Veep, the Lena Dunham-created Girls, and the Laura Dern vehicle Enlightened.
Though Keener's been approached often over the past several years about moving from film into television, she hasn't graced the small screen in about fifteen years. In fact, the new show with Kaufman will mark her first regular series gig since a stint on the short-lived procedural Ohara in the late '80s. Keener's current movie projects include the drama A Late Quartet and the animated comedy The Croods, both in post-production, and Paul Greengrass' Somali pirate drama Captain Phillips, now shooting.
Likewise, although Kaufman began his career in shows like Get a Life and The Dana Carvey Show, he's worked almost exclusively in features over the past decade or so. It's worked out quite nicely for him, as he's become one of the most respected screenwriters working today. Kaufman won a Best Original Screenplay Oscar in 2005, for the Michel Gondry-directed Eternal Sunshine of the Spotless Mind.
But even with a relative lack of recent TV experience, the two collaborators seem to be in good hands with each other. Kaufman and Keener's working relationship dates back to 1999's Being John Malkovich, which earned each of them an Oscar nomination. Since then, she's had a supporting role in Synecdoche, New York and a cameo in Adaptation, both of which Kaufman wrote. They're slated to reunite again soon on Kaufman's next directorial effort Frank or Francis, which also stars Steve Carell, Jack Black, and Nicolas Cage.