Wes Anderson's Next Film Will Feature Owen Wilson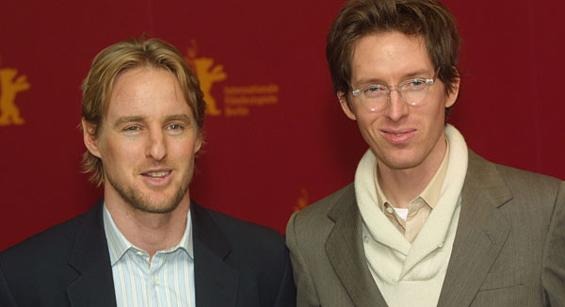 Wes Anderson is in Cannes with the debut of his new film Moonrise Kingdom, but he is already looking towards his next feature. The director has explained in recent interviews that "it's a film I want to make in Europe, a Euro movie," saying that he has recently finished the script. He also says that the new film draws to some extent on the time he spends living in Paris each year.
And now we know that Moonrise Kingdom might be a one-time only break between Anderson and his perpetual collaborator Owen Wilson, who co-wrote Bottle Rocket, Rushmore, and The Royal Tenenbaums, in addition to playing roles in two of those films and The Life Aquatic, The Darjeeling Limited, and Fantastic Mr. Fox. Wilson will be playing a role in the as-yet untitled new film.
When asked about Owen Wilson and Moonrise Kingdom, Anderson told the Dallas Morning News (via The Film Stage),
This is the first movie I've made that he hasn't been directly involved with, although he was around as a friend. We started out doing this stuff together in the first place. It's a family dynamic.
But he did confirm that there's a part for Wilson in the new film, which is described as "a large ensemble piece."
It is in an interview with Vulture that Anderson talked about the relationship between his French home (where he lives part-time) and the new film:
Well, I think I got more of the French sensibility in my work from watching French movies, probably, than living in France. But there's actually a script I'm working on now that's a European story and it kind of [draws from] my own experience here, in the details that are finding their way into it.
He also said that the new script is one he wrote on his own, based on a story he came up with in collaboration with a friend. That friend isn't Wilson, however, as Anderson said,
You wouldn't know him. [Laughs.] He's not involved with the movie business, he's just an old friend. And in fact, he's an old friend who's very bright and funny and talented, but we also have a mutual friend who's the inspiration for one of the main characters. So we've partly used our shared experiences to kind of build that character.