Early Buzz: Cannes Screens Footage From Quentin Tarantino's 'Django Unchained' And Paul Thomas Anderson's 'The Master'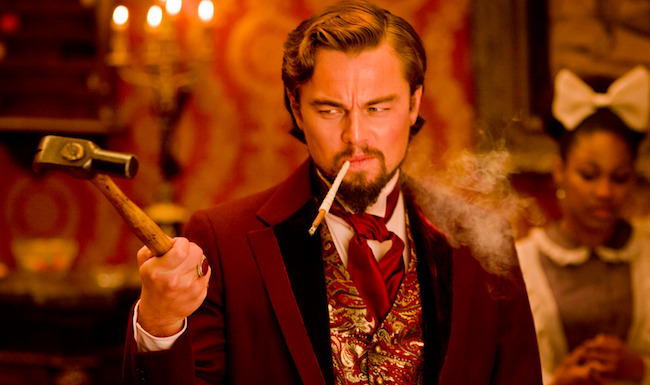 Cannes is a big festival when it comes to film premieres, but there are also occasionally (very occasionally) previews of titles that weren't ready for the festival. Today the Weinstein Company showed off footage from three new films: Quentin Tarantino's Django Unchained, Paul Thomas Anderson's The Master, and David O Russell's The Silver Linings Playbook.
Reactions to this footage preview are starting to appear, and we've collected the highlights below.
Let's break things up by film, as much as possible. Since we've already seen some footage from The Master today, we'll start with Django Unchained. The Weinsteins showed off seven minutes of footage from Quentin Tarantino's 'Southern,' which stars Jamie Foxx as the title character, Christoph Waltz as the German bounty hunter who enlists him to track down some slavers, and Leonardo DiCaprio as the plantation owner who holds Django's wife (Kerry Washington) in his compound.
Vulture gave a good recap of the footage:
The big surprise? How funny this potentially controversial Western has turned out to be. In particular, Leonardo DiCaprio seems to be having the time of his life dropping N-bombs and smiling rotted teeth as plantation owner Calvin Candie, whom freed slave Jamie Foxx and bounty hunter Christoph Waltz must defeat in order to save Foxx's wife Kerry Washington. You'll get a periwinkle-suited Foxx shooting lumpy blood chunks out of racist hicks (and an innocent snowman in one scene), and you'll laugh! You'll get Don Johnson dressed as Colonel Sanders! And you'll get an instant catchphrase from a cooly underplaying Foxx, when he's asked his name: "Django. The D is silent."
The guy asking Foxx his name there is played by Franco Nero, who starred in the Django series of films produced decades ago. Quint at AICN notes that, and also expresses surprise at the amount of humor in the movie. He also said,
Again, this thing just looks like a ton of fun and while I was already excited for the movie I'm not officially giddy. All the location work makes the film look huge, Foxx is at the top of his game it appears, Waltz is loveable, funny and dangerous all at once and it just feels like everybody is having a blast.
Anne Thompson notes that there are 62 days of shooting left on Django Unchained, and so it isn't likely to hit the fall festival circuit. The film already has a release date — Christmas Day of this year — and so the Weinsteins are likely to just let it wait until then. She also says,
Weinstein Co. is selling this as a bang-up western, packed with physical comedy and bloody action and hell-bent revenge. And yes, it looks like a classic widescreen Sergio Leone western, even if the setting is New Orleans and Mississippi two years before the Civil War. (The music on the trailer ranged from classic Johnny Cash to James Brown. No Ennio Morricone here. As yet.)... Tarantino is taking the revenge western to a whole new level as the two bounty hunters shoot their way through the unsuspecting South. It looks like the first Leone-esque section of "Inglourious Basterds," and it's about fighting injustice, except that this time it's not Brad Pitt against the Nazis in World War II–it's an angry black man getting his own back from racist white southerners before the Civil War... This is not your ordinary movie to sell overseas or domestically — or to the Academy. (I will not be surprised if the movie gets pushed back out of 2012.) But when Tarantino breaks the rules with style and panache, critics and audiences follow.
And there are very positive echoes from Twitter:
Django Unchained looks f'n badass...7 minute trailer ending with Jamie Foxx shooting his pistol to James Brown 'Payback' "The D is Silent"
— Raffi Asdourian (@zaffi) May 21, 2012
Harvey Weinstein just presented 7 mins of Django Unchained. Looks ace. We're tipping Fritz the nodding horse to be a breakout star. #Cannes
— Empire Magazine (@empiremagazine) May 21, 2012
DJANGO gets the most whoops. Plenty of blood, plenty of laughs. Looks like it will be the Cristophe Waltz show. "The D is silent." #Cannes
— TWITCH (@TwitchFilm) May 21, 2012
OMFG, "Django Unchained" looks so good. SO GOOD. #Cannes
— Drew McWeeny (@DrewAtHitFix) May 21, 2012
Reactions to The Master have also been quite good, and we'll just hit a few quick points right now, since there's already some footage that you can see, as linked above.
The Playlist notes that Joaquin Phoenix's character name is Freddie Quell, and that "falling along the general plot we already know, Freddie comes into the orbit of the enigmatic leader of a — religion? cult? — led by Philip Seymour Hoffman. And let's be clear — while the name Scientology isn't mentioned, this is clearly very inspired by the religion. While in recent months the production has taken steps — perhaps for legal reasons — to avoid drawing direct parallels, it's something that's going to be very hard to deny."
The site also said,
Visually, it looks fantastic with a graininess and color scheme that seems inspired by Technicolor/'50s film. And remember, this was shot on 65mm stock which is why we're seeing the kind of texture we get less of in this increasingly digital world. The footage we saw also opens with a great, slow dolly shot down a hallway that was immediately reminiscent of something Stanley Kubrick might have done. The score throughout was the same as was heard in the teaser trailer, though with some added strings in the same atonal universe as "There Will Be Blood."
Rope of Silicon says The Master made the best impression of the three films shown today, and adds,
The footage not seen in the teaser includes co-star Amy Adams and lead actor Phillip Seymour Hoffman as Lancaster Dodd, the titular "master", a man claiming to be many things including writer, doctor and philosopher and he has attracted Freddie's attention. Dodd is a man who's witnessed the horrors of World War II and tries to rediscover who he is in post-war America and creates a belief system, something that catches on with other lost souls...  I found several of the shots to be interesting as Anderson and his cinematographer, Mihai Malaimare Jr. (Tetro), seem to focus heavily on close-ups, particularly a nearly hypnotic moment featuring Adams speaking directly into camera saying, "Look into my eyes."
Finally, there isn't as much about David O Russell's The Silver Linings Playbook, in part because it doesn't enjoy nearly the level of anticipation of the other two films. As Alex at FirstShowing noted in a video blog, part of the problem is that, when a film like Russell's is sandwiched between new PTA and Tarantino films, it is bound to look a little, well, normal.
The film features Bradley Cooper, Jennifer Lawrence, Robert De Niro, and Chris Rock, adapting the novel by Matthew Quick. Jeff Wells offers,
The Silver Linings Playbook looks fast and sharp — a raggedy-jazz comedy about caustic humor, family, sex, anxiety, therapy, hurt, healing...all of that. Directed and written by Russell, and adapted from the serio-comic novel by Matthew Quick. Agitated and lacking-in-people-skills Bradley Cooper falls in love with Jennifer Lawrence. It feels edgy and crackling and push-pushy and what-tge-fucky. Robert De Niro, Julia Stiles, Jacki Weaver and Chris Tucker costar.
And AwardsDaily notes,
[David O Russell's] gift is with actors, nimble dialogue, unpredictable reactions and you see all of that here.
Bradley Cooper stars in Silver Linings as a man who's just spent five years in a mental hospital and must move home with his mother and try to sort out his life, and stars opposite beautiful Jennifer Lawrence, who continues to light up the screen. They talk about taking drugs and flirt with each other a lot. It's chaos but funny chaos. You can imagine that O. Russell is especially good with awkward parent scenarios — Flirting with Disaster, especially, which is his best film to date, I think. Plenty of Oscar potential there too, but that is one that will have to be seen all the way through to know for sure. If it's a Best Picture contender, the rest of the nominations will follow.
There's also this, from Twitter:
SILVER LININGS PLAYBOOK looks to b somewhat standard romcom w/ Bradley Cooper as mentally unstable. Jennifer Lawrence stole trailer. #Cannes
— TWITCH (@TwitchFilm) May 21, 2012