Kevin Smith's 'Anti-Movie Review' Show 'Spoilers' Premieres On Hulu June 4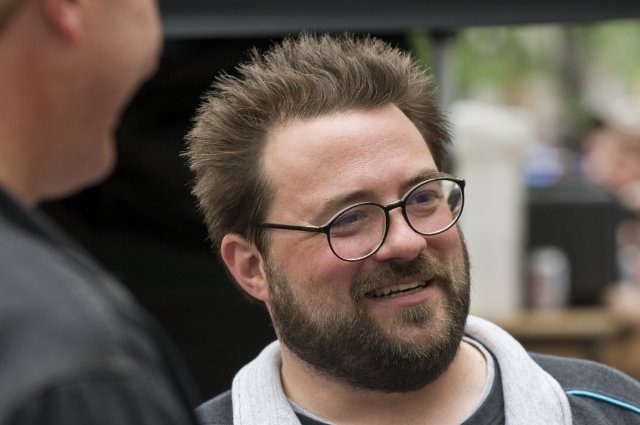 Kevin Smith and film criticism haven't always had the most friendly relationship. A few years back he lashed out at critics due to the reaction to Cop Out. The battle continued when Red State was released, as the director refused to show it to critics. On the flip side, great reviews certainly assisted in making films like Clerks and Chasing Amy such long lasting hits.
Smith has now found a way to blend his two ideologies with an internet TV show called Spoilers, which premieres June 4 on Hulu. He calls it an "anti-movie review show" where the filmmaker will take a bunch of fans to see ten summer blockbusters on opening day, forgoing the early critic screenings he abhors so much, and then have an in-depth discussion about its merits. "We don't review movies, we revere movies," he says.
After the jump, read more about the show and watch a few teaser clips.
Here's the official show description from the Hulu press release:
For fans of: "Inside the Actors' Studio," "Comic Book Men," "Real Time with Bill Maher," "Conan," "The Late Show with Jimmy Fallon." New episodes premiere every Monday beginning on June 4; Entire ten-episode series (produced by SModCo) available on August 6. Kevin Smith's Movie "Revue" – This multi-act film extravaganza mixes lively group chats, interviews with movie and pop culture icons and animated shorts. Each week, Kevin, special guests and movie lovers passionately sound off on the year's most anticipated summer blockbusters, gushing over their favorite scenes and debating the details frame by frame.
The film's Smith and friends will review for these 10 episodes are as follows:
Snow White and the Huntsman
Abraham Lincoln: Vampire Hunter
Ice Age: Continental Drift
Basically the meat of June, July and early August. Here's the teaser for the show:
And here Smith gets a bit more detailed:
There's another clip on the show's Hulu page too.
Since Smith calls Spoilers an "anti-movie review" show, I'm going to be really interested to see how in-depth he and his audience get if they dislike a film. I'm sure they'll geek out over Prometheus or The Dark Knight Rises, but I can't see Ice Age: Continental Draft getting a glowing review from a bunch of Smith-fan movie nerds.
For more on the Smith vs. critic controversy, check out this post from our own Dave Chen.
Are you going to check this out? Do you feel Smith is going back on his previous stance?
Additional source: Indiewire