Sandra Bullock And Melissa McCarthy To Star In Buddy Cop Flick From 'Bridesmaids' Director Paul Feig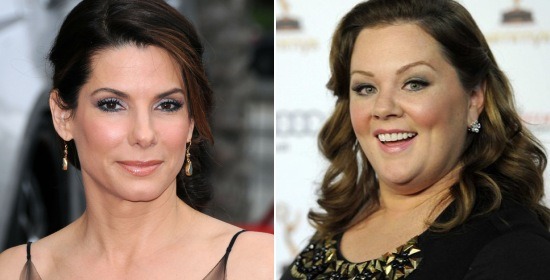 After much talk, Bridesmaids director Paul Feig and breakout star Melissa McCarthy have finally settled on a project to bring them back together. The pair are set to team with Sandra Bullock for an untitled new comedy from Parks & Recreation writer Katie Dippold, which will see the two actresses playing a mismatched law-enforcement duo. More details after the jump.
The deal reportedly comes after weeks of difficult discussions over salary and scheduling, but the trio are now set to shoot during McCarthy's next hiatus from her CBS series Mike and Molly. That means it won't get going for a little while yet — though the series is on break right now, McCarthy's currently using her off time to shoot Seth Gordon's Identity Theft. McCarthy also has a handful of other projects simmering at the moment, including her passion project Tammy, a possible Bridesmaids sequel, and a Stanley Cup comedy with Bridesmaids writer Annie Mumolo.
Feig has apparently become the go-to guy for female-led comedies ever since the success of Bridesmaids. Though he's no longer on board for Bridget Jones' Baby, he is set for the Reese Witherspoon vehicle Wish List, and has been attached at various points to the Amy Sherman-Palladino-scripted The Better Woman and HBO's The Viagra Diaries.
But it's really Bullock I'm curious to see here. She's just coming off of a trio of dramatic turns, in The Blind Side, Extremely Loud and Incredibly Close, and Alfonso Cuaron's Gravity (due out next year); the untitled Feig picture will be Bullock's first comedy since 2009's All About Steve and The Proposal. If their last team-up is any indication, Feig and McCarthy's sense of humor may be a little ruder and more offbeat than Bullock's used to, but I look forward to seeing her stretch her comedy horizons.