Photos: You Might Not Even Recognize Matthew Fox In 'Alex Cross'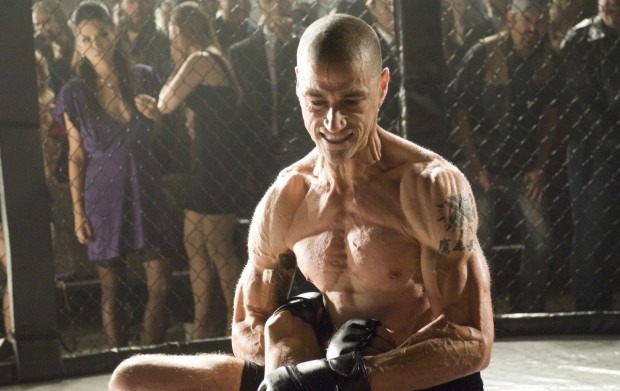 Holy crap, look at Matthew Fox! The Lost star plays a serial killer in Alex Cross, the Rob Cohen-directed adaptation of James Patterson's novel I, Alex Cross. In the title role is Tyler Perry, in a rare gig outside of his own filmmaking oeuvre. He's taking over for Morgan Freeman, who played Cross in Kiss the Girls and Along Came a Spider.
The first images from Alex Cross have shown up today, and while it's neat to see Perry out of his Madea getup, it's really Fox that steals the spotlight here. Because, at the risk of repeating myself, holy crap. He's really Christian Bale-ing here. More images are below.
Alex Cross also stars Edward Burns, Jean Reno, Rachel Nichols and Giancarlo Esposito. Fox plays the prime nemesis to Cross in the film, and now I'm far more interested in checking out the results of their pairing.
Here's the book description. Alex Cross opens on October 26th. [Kinopoisk via The Film Stage]
Can Alex Cross survive his most chilling – and personal – case ever? Pulled out of a family celebration, Detective Alex Cross gets awful news: A beloved relative has been found brutally murdered. Vowing to catch the killer, he quickly learns that she was mixed up in one of Washington, D.C.'s wildest scenes. And she was not this killer's only victim . . .  The hunt for the murderer leads Alex and his girlfriend, Detective Brianna Stone, to a place where every fantasy is possible, if you have the credentials to get in. Soon they confront some very important, very protected, and very dangerous people who will do anything to keep their secrets safe. As Alex closes in on the killer, he discovers evidence that points to the unimaginable – a revelation that could rock the entire world.
As a bonus, we've got the trailer for Perry's latest film, Tyler Perry's Madea's Witness Protection, which opens on June 29. And before you scoff, watch the trailer long enough to catch Madea telling Eugene Levy to get out of bed — that scary whisper is the scariest whisper. If the trailer doesn't make all the details clear, the longest synopsis we've ever posted for a comedy is below the embed.
Tyler Perry returns as America's favorite brash, no-holds-barred grandma in Lionsgate's TYLER PERRY'S MADEA'S WITNESS PROTECTION, an outrageous culture clash comedy that also stars Eugene Levy, Denise Richards and Doris Roberts.
For years, George Needleman (Levy), the gentle CFO of a Wall Street investment bank, has been living with his head in the clouds. His frustrated second wife, Kate (Richards), has reached her limit taking care of his senile mother, Barbara (Roberts). His teenage daughter, Cindy (Danielle Campbell), is spoiled beyond hope and his seven-year-old son, Howie (Devan Leos), wishes his father were around more. But George is finally forced to wake up when he learns that his firm, Lockwise Industries, has been operating a mob-backed Ponzi scheme – and that he's been set up as the fall guy.
Facing criminal charges and death threats from the mob, George and his entire family are put under witness protection in the safest place that Brian (Perry), a federal prosecutor from Atlanta, can think of...
His Aunt Madea's house down South.
As a result, Madea and her live-in brother, Uncle Joe (Perry), find themselves managing a completely dysfunctional family from Connecticut. But as George tries to solve the mystery behind Lockwise's finances, Madea whips the Needlemans into shape using her hilarious brand of tough love. And together, they realize they just might have what it takes to unite George's family, outsmart the mob and change everyone's lives for the better.
Featuring Perry's trademark blend of raucous comedy and emotional uplift, TYLER PERRY'S MADEA'S WITNESS PROTECTION is written and directed by Perry, and produced by Perry, Ozzie Areu and Paul Hall. The film also stars Romeo Miller, Tom Arnold, John Amos and Marla Gibbs.