'Magic Mike' UK Trailer - Less Furniture Building, More Beefcake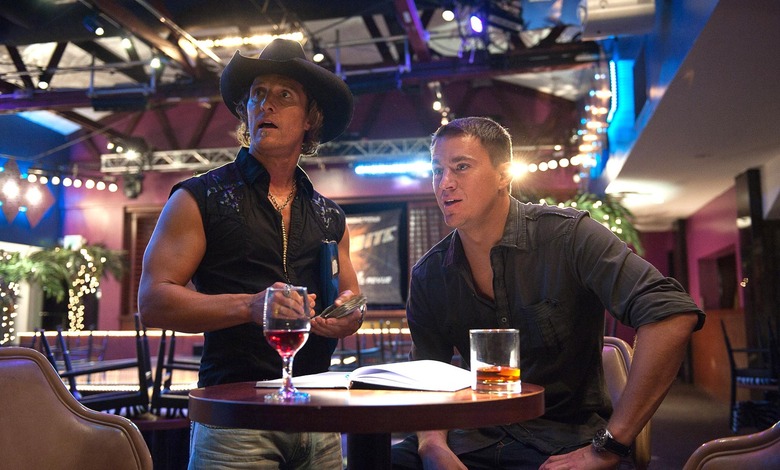 Now this is what I'm talking about. Whereas the first U.S. trailer for Steven Soderbergh's male stripper flick Magic Mike took pains to frame Mike (Channing Tatum) as just a sensitive furniture maker searching for something more than the seedy life of an exotic dancer, the new U.K. trailer plays up the sheer entertainment value of watching these guys get down and dirty. And along the way, it even reveals a bit more about the mentor-protege relationship between Mike and The Kid (Alex Pettyfer) that comprises the main storyline. Watch it after the jump.
I liked the last trailer just fine, but between the furniture-building subplot and the emphasis on the budding romance between Mike and Paige (Cody Horn), it felt like a standard romantic comedy with some exotic dancing elements shoehorned in. I'm hoping this livelier new one is closer to the actual tone and focus of the film.
Since the film is based on Tatum's real-life experiences as a young dancer, it's nice to get a better look at the ins and outs of that particular universe. (Not to mention the cast's formidable dancing skills and even more impressive ab muscles that come with it.) Turns out there's much more to it than just dropping trou and collecting dollar bills, and it's sweet to watch Mike trying to show The Kid the ropes. Especially when The Kid is prone to saying puppyish things like "Hey Mike, I think we should be best friends."
Also starring Joe Manganiello, Matt Bomer, and the perpetually shirtless Matthew McConaughey, Magic Mike opens June 29 against Tatum's own G.I. Joe: Retaliation.
Synopsis:
A dramatic comedy set in the world of male strippers, "Magic Mike" is directed by Academy Award(R)-winning director Steven Soderbergh ("Traffic") and stars Channing Tatum in a story inspired by his real life. The film follows Mike (Tatum) as he takes a young dancer called The Kid (Alex Pettyfer) under his wing and schools him in the fine arts of partying, picking up women, and making easy money.