Disney's Peter Pan Retelling 'Peter & The Starcatchers' Takes A Step Forward As Writer Jesse Wigutow Boards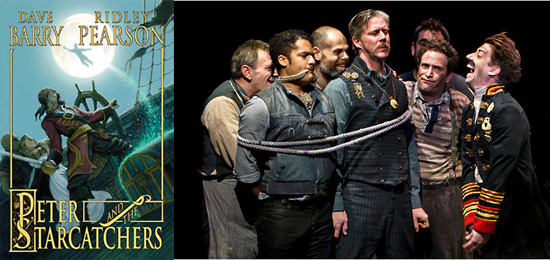 We may receive a commission on purchases made from links.
With the pieces for one fairy tale origin story falling into place, Disney's taking a step toward getting another underway. Last spring, Disney chief Bob Iger revealed that his studio was looking into a film adaptation of Peter and the Starcatchers, a 2004 Peter Pan prequel by Dave Barry and Ridley Pearson. Now they've taken the first real step in that direction, by hiring Jesse Wigutow to pen the script. More details after the jump.
Here's a rundown of Barry and Pearson's first book, via Amazon:
A fast-paced, impossible-to-put-down adventure awaits as the young orphan Peter and his mates are dispatched to an island ruled by the evil King Zarboff. They set sail aboard the Never Land, a ship carrying a precious and mysterious trunk in its cargo hold-and the journey quickly becomes fraught with excitement and danger. Discover richly developed characters in the sweet but sophisticated Molly, the scary but familiar Black Stache, and the fearless Peter. Treacherous battles with pirates, foreboding thunderstorms at sea, and evocative writing immerse the reader in a story that slowly and finally reveals the secrets and mysteries of the beloved Peter Pan.
Sounds promising, but it'll be up against a lot of competition. There are already a handful of other Peter Pan-based projects in various stages of development, including the "dark" one with Aaron Eckhart and Sean Bean and the Channing Tatum-produced one with Gavin O'Connor on board.
Wigutow's only produced screenplay to date is 2003's It Runs in the Family, but that looks to be changing soon as he's got a number of high-profile projects on his plate. In addition to Peter and the Starcatchers, Wigutow also has F. Javier Gutiérrez's remake of The Crow, Brian Kirk's Robert Ludlum adaptation The Osterman Weekend, and James Gray and Jeremy Renner's Steve McQueen biopic.