First Look: 'Taken 2'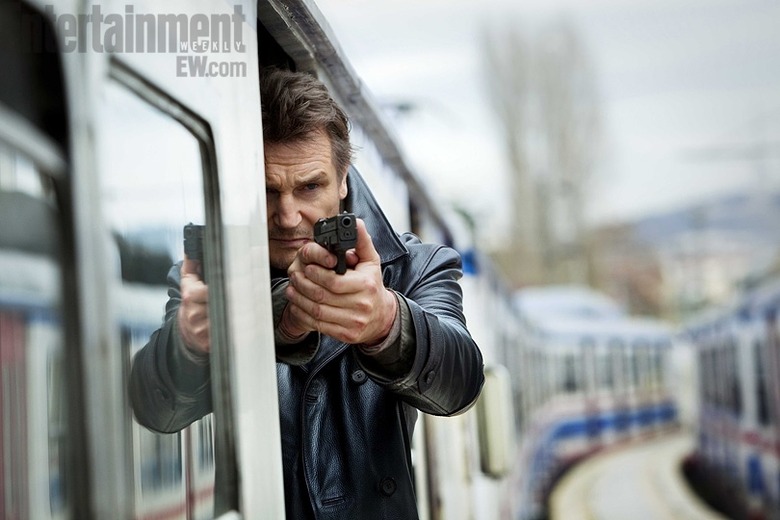 20th Century Fox has finally released the first photos from Taken 2. Director Olivier Megaton's (Colombiana, Transporter 3) follow-up takes a twist on the original as Maggie Grace must help rescue Liam Neeson's character Bryan Mills after "associates of the villains he killed the first time around decide to get their revenge." I saw some early footage at CinemaCon and it looked much better than it sounds (for example, Grace's character isn't turned into a complete badass Sarah Conner-type, and fun is had with her inabilities). Hit the jump to check out the first photos from the action sequel, along with a quote from Neeson.
Neeson explains to EW the beginning of Taken 2:
"The action is supposed to take place about a year or a year and a half after the first story. It's a very clever sequel with the usual thrills and spills, but the ante is upped quite a bit in this one." ... "I've taken a job over in Istanbul looking after a sheik who is there, and afterward I discover that my wife's going through a very bad time with her new husband. So I suggest she and my daughter come over for a few days and hang out with me in this amazing city. And then... [laughs] all this s—t happens, of course." ... "I'm taken — let's put it that way. They kidnap him to humiliate him, torture him, and ultimately bring him back to the village in Albania where the boys from the original film came from. With the help of my daughter... she wants to help me escape from where these bad guys have me."
Read the full interview on EW.com.