Sequel Bits: 'Blade Runner 2', 'Prometheus 2', 'Iron Man 3', 'Catching Fire', 'Grown Ups 2', 'Piranha 3DD', 'Men In Black 3'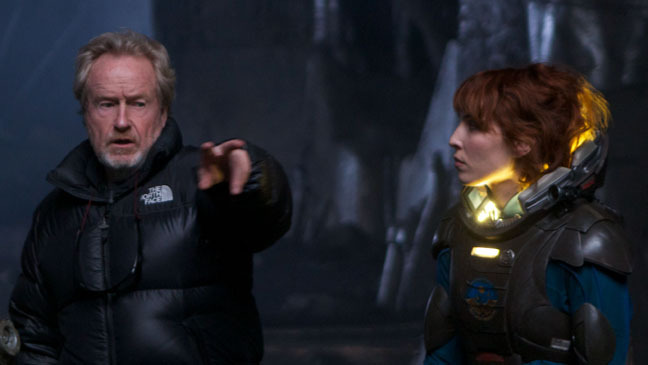 After years away from sci-fi, director Ridley Scott is returning to the genre in a big way this summer with Prometheus, and he aims to stick around for a while. Scott already has hopes of working on Prometheus 2 sooner rather than later, and is currently in the middle of developing some kind of sequel to Blade Runner. Also after the jump:
Check out some gorgeous Prometheus concept art
Iron Man 3 filming at the Cape Fear Club in North Carolina
Will Catching Fire leave North Carolina for Georgia?
Still more specifics on Grown Ups 2 filming in Marblehead, MA
Watch some behind-the-scenes footage from Piranha 3DD
See how award-winning artist Rick Baker makes an MIB3 alien
But nothing's for certain at this point, and we'll have a much better idea of his plans after Prometheus hits June 8. In the meantime, we'll have to settle for feasting our eyes on some gorgeous concept art and a couple of new stills from Prometheus, which also ran with the THR story.
No wonder Scott seems so eager to dive back into this stunning universe. The story also offers more details about the ship and the creatures in the movie, though those who'd rather be surprised may want to steer clear. Prometheus stars Noomi Rapace, Charlize Theron, and Michael Fassbender.
North Carolinian Marvel fans may want to swing by Wilmington later this month. According to Before the Trailer, the production of Iron Man 3 has just requested permission to shoot at the Cape Fear Club on Chestnut Street on Tuesday, May 29 from 5 AM through 7 PM.
Self-described as "the oldest gentlemen's club in South in continuous existence" (not a euphemism for "strip club" in this case), the establishment has been around since 1866. Your guess as to what Tony Stark-related shenanigans will be going on there is as good as mine. Iron Man 3 opens May 3, 2013.
Even as Iron Man 3 sets up shop in North Carolina, however, it looks like another major sequel may be on its way out. Though a good chunk of The Hunger Games was shot in the state, TheHob.org (via On Location Vacations) has picked up some tweets from Asheville news anchor Russ Bowen that indicate that its sequel Catching Fire could be heading to Atlanta, Georgia.
Looks #catchingfire filming in NC could be very limited. Soundstage used for #hungergames may move out of Charlotte #avlnews #cltnews
Just asking the question. Is NC fighting to keep #catchingfire?
Pre-production for #catchingfire starts in mid-june and looks likely soundstage leaving Charlotte and headed to Atlanta #avlnews #cltnews
The soundstage in question was previously set up at an old factory in Charlotte, and was the site of all of the shooting for the Capitol scenes. With director Francis Lawrence and stars Jennifer Lawrence, Liam Hemsworth, and Josh Hutcherson preparing to start shooting this summer for a November 22, 2013 release, we're sure to find out more soon.
For the folks up in Marblehead, MA, Mablehead Patch (via On Location Vacations) has some very detailed info on where Grown Ups 2 will be shooting on May 24, 29, and 30, including which streets will be closed on what times.
The report also offers some clues for scenes we can expect to see in the final movie. If you're curious, among them are a "high school cheerleader car wash scene" and one of "a celebrity picking up their kids at school." The Dennis Dugan-directed Adam Sandler comedy sequel is scheduled to open July 12, 2013.
Curious about the behind-the-scenes magic that goes into making a masterpiece like Piranha 3DD? Trailer Addict has posted some b-roll footage from the horror comedy sequel, offering peeks at some new scenes we haven't yet seen in trailers and clips, as well as fun glimpses of stars like David Hasselhoff and Gary Busey at work.
Piranha 3DD hits theaters June 1.
One of the more reliable pleasures of all the Men in Black films is seeing the crazy alien designs cooked up by makeup and effects artist Rick Baker. A new behind-the-scenes featurette titled "Building a Better Alien" shows us just how he does it, giving us a closer look at the range of extraterrestrial life forms we can expect to see in Men in Black 3.
[via SuperHeroHype]
Directed by Barry Sonnenfeld and starring Will Smith, Tommy Lee Jones, and Josh Brolin, Men in Black 3 opens May 25.