Aaron Sorkin To Adapt 'Steve Jobs' For Sony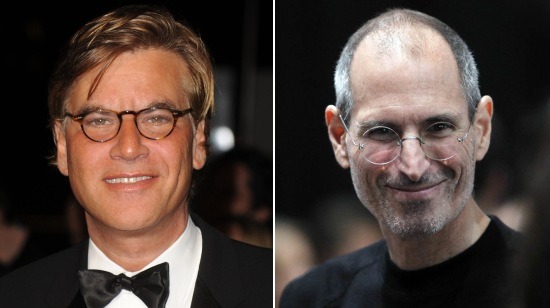 Last year we heard that Sony wanted Academy Award-winning The Social Network/The West Wing writer Aaron Sorkin to write the screenplay for a Steve Jobs biopic based on Walter Isaacson's best-selling biography. Sony had purchased the rights in a $1 million deal made just days after the Apple co-founder's passing on October 5th 2011. Last we heard, Sorkin was "strongly considering" the project. Since then, another movie from an independent producer based on Jobs' life starring Ashton Kutcher has been revealed. Tonight Sony has sent out a press release, announcing that Sorkin has officially signed on to adapt the screenplay for their own bio. Read the full press release after the jump.
AARON SORKIN TO ADAPT "STEVE JOBS" FOR SONY PICTURES
–Film to be Based on Walter Isaacson's Best Selling Biography of Late Apple Co-Founder-
CULVER CITY, Calif., May 15, 2012 – Academy Award® winning screenwriter Aaron Sorkin will adapt Steve Jobs, a motion picture based on the best-selling biography of the legendary Apple co-founder by award-winning journalist Walter Isaacson, it was announced today by Amy Pascal, Co-Chairman of Sony Pictures Entertainment, and Doug Belgrad, President of Columbia Pictures. The project is being produced by Mark Gordon, Scott Rudin and Guymon Casady.
Published late last year, Steve Jobs was Amazon's best-selling book of 2011. In addition, the biography ranked #1 among bestselling hardcover books by a 2:1 margin, with sales of 2,246,569 in 2011, according to Publisher's Weekly.
Commenting on the announcement, Pascal said, "Steve Jobs' story is unique: he was one of the most revolutionary and influential men not just of our time but of all time. There is no writer working in Hollywood today who is more capable of capturing such an extraordinary life for the screen than Aaron Sorkin; in his hands, we're confident that the film will be everything that Jobs himself was: captivating, entertaining, and polarizing."
AARON SORKIN won the Academy Award® for Best Adapted Screenplay for his work on The Social Network. His other screenplays includeMoneyball, Charlie Wilson's War, The American President, Malice, and A Few Good Men. He has also acquired the motion picture rights to The Politician, the best-selling book by Andrew Young about the downfall of former Senator John Edwards. He will adapt the book and make his directorial debut with the film, which he will also produce. For television, Sorkin created "The West Wing," "Sports Night," and "Studio 60 on the Sunset Strip." He is currently in production on the HBO series "The Newsroom," which is scheduled to premiere on June 24, 2012. For the stage, Sorkin wrote "A Few Good Men" and "Making Movies"; he returned to Broadway in 2007 with "The Farnsworth Invention." Sorkin will return to the theater and make his Broadway debut as a librettist with the 2013-2014 production of "Houdini." Based on the life of legendary magician Harry Houdini, the musical will star Hugh Jackman and will feature music and lyrics by Oscar and Grammy winner Stephen Schwartz.
About Sony Pictures:Sony Pictures Entertainment (SPE) is a subsidiary of Sony Corporation of America, a subsidiary of Tokyo-based Sony Corporation. SPE's global operations encompass motion picture production and distribution; television production and distribution; home entertainment acquisition and distribution; a global channel network; digital content creation and distribution; operation of studio facilities; development of new entertainment products, services and technologies; and distribution of entertainment in more than 159 countries. For additional information, go tohttp://www.sonypictures.com/