'The Do-Deca-Pentathlon' Trailer - The Duplass Brothers' Sweaty Tale Of Brotherly Love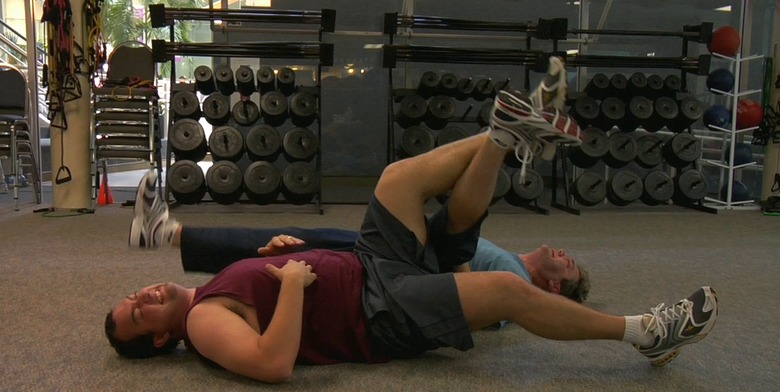 Although the timing of the release makes it seem like the Duplass brothers' The Do-Deca-Pentathlon is a follow-up to this spring's Jeff Who Lives at Home, the filmmaking duo actually shot the film shortly after 2008's Baghead and then shelved it while they moved onto Cyrus. Nevertheless, The Do-Deca-Pentathlon works as a smaller-scope continuation one major theme from Jeff – namely, the messy relationship between brothers.
Mark Kelly and Steve Zissis star as a pair of siblings who've been estranged for years, ever since they competed in their own homegrown, private, 25-event Olympics dubbed The Do-Deca-Pentathlon to see which of them was better. Now middle-aged, the guys reunite and find themselves compelled to give the game one more try. Watch the trailer after the jump.
[via First Showing]
Skip over to Apple to see the trailer in HD, which makes the out-of-shape competitors look crisper but no firmer.
Given that this tale of dueling brothers was itself written and directed by a pair of famous brothers, and given the Duplass' signature intimate mumblecore style, The Do-Deca-Pentathlon can't help but feel intensely personal. While I have no idea if the real-life Duplasses have ever actually competed in such an event, I can only assume that the siblings drew upon their own experiences to build up the characters and their fraternal relationship.
And it shows, in a good way. The athletic hijinks look plenty entertaining, but the real heart of this story is obviously Jeremy and Mark's complicated connection. Even in this brief trailer, both the warmth and resentment between them come across clear as day.
Also starring Jennifer Lafleur and Julie Vorus, The Do-Deca-Pentathlon gets a limited release July 6.
From Jay and Mark Duplass, the writer/directors of the Sundance hits "The Puffy Chair," "Cyrus" and the upcoming "Jeff Who Lives at Home" comes "The Do-Deca-Pentathlon," the story of two grown brothers who secretly compete in a homemade Olympics during a family reunion. When their fierce and disruptive competition is uncovered, the brothers must choose between their passion for beating the hell out of each other and the greater good of the family.