Film Negative Gives Obscure First Look At Philip Seymour Hoffman In 'The Master'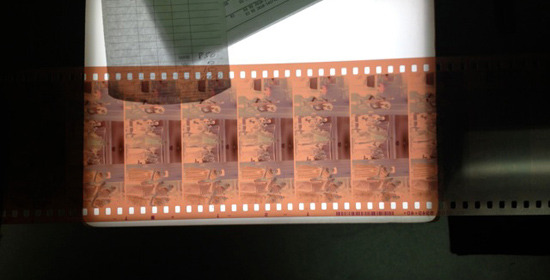 Trust Paul Thomas Anderson to retain a sense of mystery, even as he gives up some information. The writer/director is in post-production on his new film The Master, which stars Philip Seymour Hoffman as the ultimate self-starter, a man who creates his own religion. We know that actors like Joaquin Phoenix, Amy Adams, and Laura Dern are in the movie.
We also know that Mihai Malaimare Jr. (Tetro and Twixt Now and Sunrise) worked with PTA to shoot the film on 65mm. Now Anderson has offered up a photo of a scrap of that 65mm negative. Small as it may be, once the image is inverted and color-corrected, this is our first real look at Hoffman in the film.
PTA sent this image and a couple more to Cigarettes and Red Vines, along with a note:
CJ -
good evening.  it's been so long
and you've been so patient, thought
i'd fill you in on where we're
at with it now:
 These shots include our lovely
Negative Cutter, Simone, imported
all the way from France to cut 65mm
negative.   She does it all with a pair
of scissors from Staples.  
I'll have more to share in the
coming days/weeks/months.  Hope
you're well. Thank you for all the support.
See you soon.
paul.
The Weinstein Company will open The Master on October 12 of this year. In the meantime, check out this slight first look: