Terrence Malick's New Film 'The Burial' Now Called 'To The Wonder'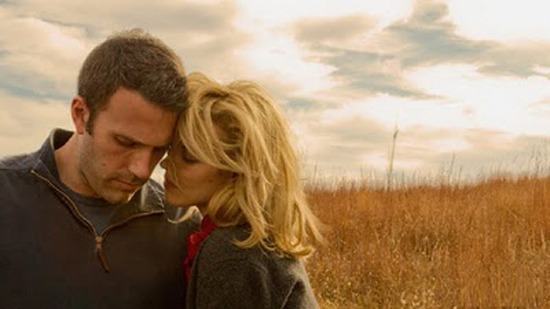 After he finished The Tree of Life, director Terrence Malick shot a film that was referred to for quite some time as The Burial. The romance features Ben Affleck, Rachel McAdams, Olga Kurylenko, Javier Bardem, Rachel Weisz, Barry Pepper, Michael Sheen, Amanda Peet, and Jessica Chastain, and has been the subject of much speculation, as is often the case with Malick's films.
Now we've got one new detail: thanks to the MPAA, we know the film is now called To the Wonder, and has been rated R for "some sexuality/nudity."
The Film Stage noticed the rating. We don't know much more beyond the synopsis that showed up a while back:
...a philanderer (Ben Affleck) who, feeling at loose ends, travels to Paris, where he enters a hot-and-heavy affair with a European woman (Olga Kurylenko). Said Lothario returns home to Oklahoma, where he marries the European woman (in part for visa reasons). When the relationship founders, he rekindles a romance with a hometown girl (Rachel McAdams) with whom he's had a long history.
The film is part of a fairly staggering recent burst of work from Malick, who is also putting together two films this year. There is the one formerly called Lawless (that name was handed over to John Hillcoat for his bootlegging drama) and another called Knight of Cups. Christian Bale features in both of those films, though we know relatively little of each beyond the cast.
Here's what FilmNation announced for those projects last year. Keep in mind that Lawless is now untitled:
FilmNation Entertainment is continuing their relationship with acclaimed director Terrence Malick (The Tree of Life, The Thin Red Line) and handling international sales and distribution on his next two films. LAWLESS will star Ryan Gosling (Drive, The Ides of March) and boasts a supporting cast that includes Academy Award Winners Christian Bale (The Dark Knight, The Flowers of War), Cate Blanchett (The Hobbit, The Curious Case of Benjamin Button) plus Rooney Mara (The Girl with the Dragon Tattoo, The Social Network) and Haley Bennett (Marley & Me, The Haunting of Molly Hartley).
The second film, KNIGHT OF CUPS, will star Christian Bale with a supporting cast including Cate Blanchett and Isabel Lucas (Immortals, Transformers: Revenge of the Fallen). Both films are currently in pre-production and will shoot back-to-back in 2012. Sarah Green (Untitled Terrence Malick Project, The Tree of Life, The New World, Take Shelter, Mud) and Nicolas Gonda (Untitled Terrence Malick Project, The Tree of Life, The New World) will serve as the producers on both films with FilmNation Entertainment handling international sales during this week's AFM.