Watch: Four Bob Balaban-Narrated 'Moonrise Kingdom' Featurettes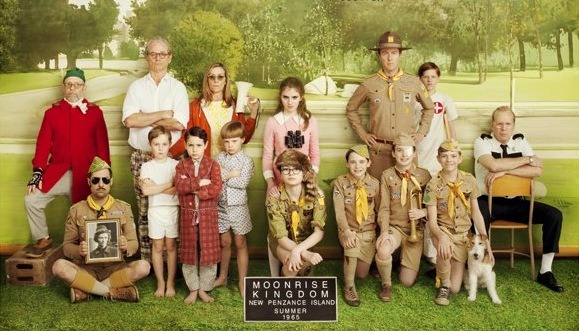 The four latest featurettes for Wes Anderson's Moonrise Kingdom don't reveal much more about the actual movie than that last behind-the-scenes video did, but it's still a pleasure to watch the cast and crew coming together. Especially when all the proceedings are narrated by Bob Balaban, in typically wry, gentle Anderson style.
The four videos focus on Anderson and stars Bill Murray, Edward Norton, and Bruce Willis, as they shoot their scenes and goof off between takes. Turns out Anderson and Norton in particular are pretty adept at stone skipping, and Anderson was scared of Murray the first time they met. Watch them after the jump.
Bill Murray:
Edward Norton:
Bruce Willis:
[via Trailer Addict]
Anderson's distinct style has come across strongly in all of the marketing we've seen for Moonrise Kingdom so far, and these videos are no exception. As a fan, I'm totally charmed. And I love Balaban's narration, which is a good thing since he'll be doing much more of the same in the actual film.
Moonrise Kingdom has its world premiere this week at the Cannes Film Festival, and will roll out for a limited U.S. release on May 25.
Set on an island off the coast of New England in the summer of 1965, MOONRISE KINGDOM tells the story of two twelve-year-olds who fall in love, make a secret pact, and run away together into the wilderness. As various authorities try to hunt them down, a violent storm is brewing off-shore — and the peaceful island community is turned upside down in more ways than anyone can handle. Bruce Willis plays the local sheriff. Edward Norton is a Khaki Scout troop leader. Bill Murray and Frances McDormand portray the young girl's parents. The cast also includes Tilda Swinton, Jason Schwartzman, and Jared Gilman and Kara Hayward as the boy and girl.