Alfonso Cuaron's 'Gravity' Pushed To 2013; 'Gangster Squad' Coming In September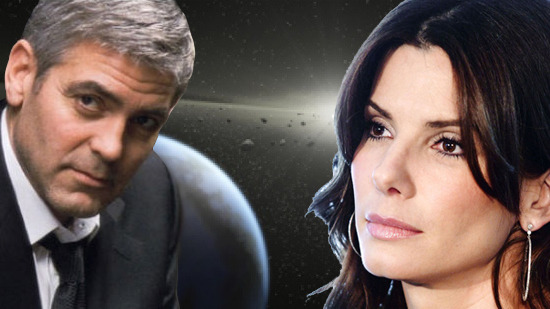 One of the most anticipated films of 2012 has officially been delayed. Alfonso Cuaron's Gravity, originally set for release in November, has been moved to a not-yet-specified date in 2013. The film, which stars George Clooney and Sandra Bullock, recently began test screening and it's safe to assume Cuaron and the Warner Bros. executives felt it needed a bit more time to reach its full potential. The sci-fi thriller is said to be very effects heavy.
As one Warner Bros. film goes into release limbo, another has come out. Ruben Fleischer's period film Gangster Squad has been slotted for September 7. Starring Sean Penn, Josh Brolin and Ryan Gosling, the film was moved off the schedule a few weeks back but, with a strong response to its recently released trailer, is now back on.
Thanks to Box Office Mojo (via The Film Stage) for the info.
Here's a description of Gravity:
Sandra Bullock plays Dr. Ryan Stone, a brilliant medical engineer on her first shuttle mission, with veteran astronaut Matt Kowalsky [George Clooney] in command of his last flight before retiring. But on a seemingly routine spacewalk, disaster strikes. The shuttle is destroyed, leaving Stone and Kowalsky completely alone–tethered to nothing but each other and spiraling out into the blackness.
And here's Gangster Squad:
Los Angeles, 1949. Ruthless, Brooklyn-born mob king Mickey Cohen (Sean Penn) runs the show in this town, reaping the ill-gotten gains from the drugs, the guns, the prostitutes and–if he has his way–every wire bet placed west of Chicago. And he does it all with the protection of not only his own paid goons, but also the police and the politicians who are under his control. It's enough to intimidate even the bravest, street-hardened cop...except, perhaps, for the small, secret crew of LAPD outsiders led by Sgt. John O'Mara (Josh Brolin) and Jerry Wooters (Ryan Gosling), who come together to try to tear Cohen's world apart. "Gangster Squad" is a colorful retelling of events surrounding the LAPD's efforts to take back their nascent city from one of the most dangerous mafia bosses of all time.
Does the move of Gravity worry or encourage you? Are you glad we'll get to see Gangster Squad so soon?