Jay Roach Wants Tom Cruise And Robert Downey Jr. For 'El Presidente'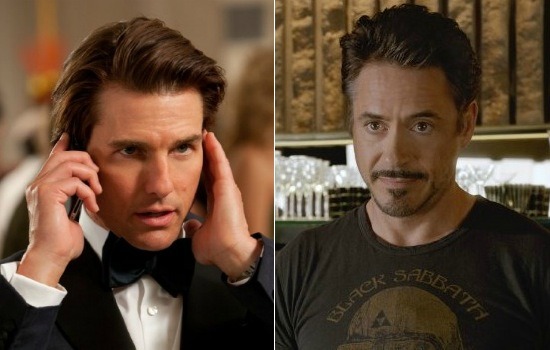 If Jay Roach has his way, two of the biggest, busiest movie stars in the world will be starring in a buddy comedy he's directing called El Presidente. Roach, the director of Austin Powers as well as this summer's The Campaign, is courting Tom Cruise and Robert Downey Jr. for the film, written by Parks and Recreation writer Dan Goor, about a Secret Service agent guarding the worst President ever. Read more after the jump.
Vulture broke the news of this story and Jeff Sneider of Variety said he's heard the same thing, though he got nothing but denials from Warner Bros. sources. So, because of that, take this with a grain of salt and realize while this might be in the works, it also might not happen. Also, back in 2010, Cruise was rumored to be attached to the film along with Jack Nicholson but that was later debunked.
Here's how Vulture describes El Presidente:
It follows an overzealous Secret Service agent whose work-life boundary issues get him reassigned to the inglorious task of guarding America's worst former president, who is a bumbling sleaze. The job suddenly becomes exciting when a threat is made on the ex-president's life and they must go on the run.
Downey Jr. would be the President and Cruise would be the Secret Service agent. Also, before anything happens, Warner is reportedly hoping to get someone to take another pass at the script.
After a few years harboring a bad reputation, Cruise has been steadily gaining his leading man status back with Mission Impossible: Ghost Protocol, not one but two upcoming sci-fi action films (Oblivion and All You Need Is Kill) as well as a lead role in the musical Rock of Ages and action film One Shot. The only thing missing from this new resurgence is a comedy and El Presidente seems like it could fit the bill. Plus, as stated above, he's been aware of this project for a while.
Downey Jr. will spend his summer playing Tony Stark again in Shane Black's Iron Man 3 but we've recently seen him use his star power in the buddy comedy genre, with Due Date and the Sherlock Holmes films. (Granted, the Holmes films are more action than comedy, but there's certainly comedy and buddy elements there too). He has yet to officially line anything up after Iron Man 3 though Paul Thomas Anderson's Inherent Vice and a Perry Mason reboot are possibilities.
Do you think this project will come together?