Cool Stuff: Disney's Hollywood Studios Star Wars Weekends 2012 Posters, Plus George Lucas' Good Deed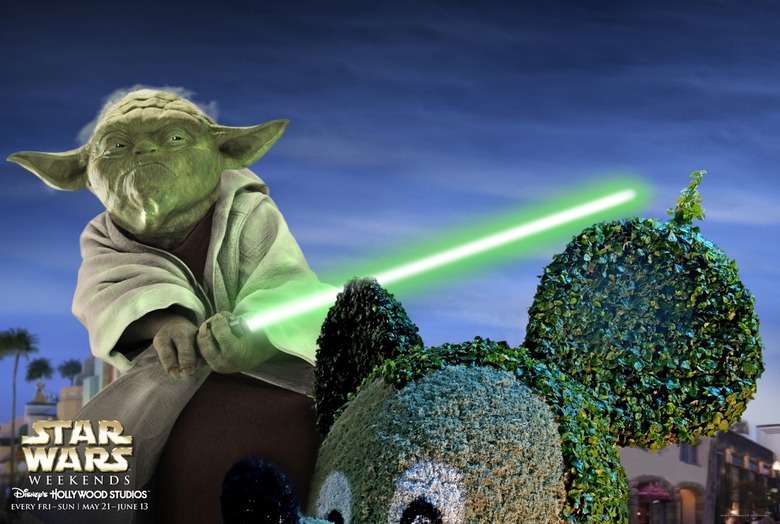 May is a big month in the world of Star Wars. There's the "May the 4th Be With You," the anniversary of the release of every single film in the saga, as well as the birthday creator George Lucas' birthday which is actually today, May 14. Happy birthday George!
It's also the kick-off of Star Wars Weekends at Disney's Hollywood Studios and besides the awesome Carbon Freeze thing they've got going on, Disney has released some truly cool ads for the summer long event taking place every Friday through Sunday from May 18 through June 10.
That's just one example above. After the jump, check out seven more, some videos and read an amazing story of what George Lucas has been up to.
Thanks to the Disney Parks Blog as well as Disney and More for these images and video.
And here are two videos:
Head to the official Star Wars Weekend site for more information but here's a basic description:
Star Wars Weekends is an annual special event at Disney's Hollywood Studios theme park that celebrates the legendary Star Wars Saga and the animated television series, Star Wars: The Clone Wars. On Friday, Saturday and Sunday of each weekend, you can join celebrities and characters for special shows, panels, presentations and more!
The Disney brand and Star Wars brand work so well together you'd think Disney owned LucasFilm. Obviously, they don't. It's just a mutually beneficial agreement, much as will likely happen soon with James Cameron's Avatar.
Disney does own Marvel, though, and the fact that the parks have yet to really blend to two brands is slightly disconcerting. It's certainly in the works but imagine Avengers Weekends were going on this summer? It would be insane.
Are you going to head to Star Wars Weekends?
And on a final related note, Movies.com has a great, great story of George Lucas turning some of his land in Marin County, CA into low-income housing as a way to be charitable and also send a huge "F You" to his neighbors who wouldn't let him use the land to build a movie studio. You've got to check it out.