Sequel Bits: 'Grown Ups 2', 'Sin City: A Dame To Kill For', 'G.I. Joe: Retaliation', 'Beetlejuice 2', 'Tron: Uprising', 'Iron Man 3', 'The Family Corleone'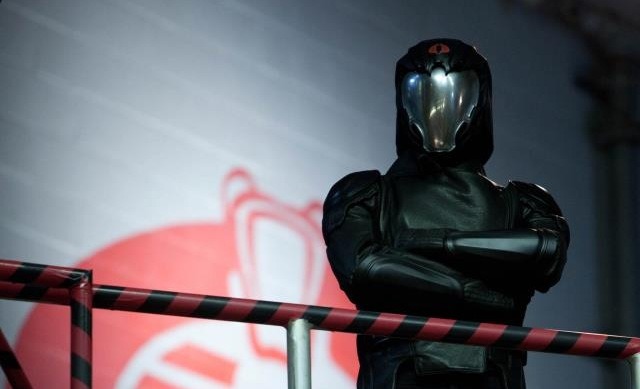 Today's Sequel Bits features all kinds, from Depression-era gangsters to noirish femme fatales to drunken school bus drivers. After the jump:
Nick Swardson and Cheri Oteri board Grown-Ups 2
Sin City: A Dame to Kill For gets its first teaser poster
A new G.I. Joe: Retaliation image shows Cobra Commander
Seth Grahame-Smith is a little intimidated by Beetlejuice 2
Edward Kitsis and Adam Horowitz talk Tron: Uprising
Paramount is letting a Godfather (book) prequel go forward
Jon Favreau likes where Shane Black's Iron Man 3 is headed
The sequel will see Swardson playing Schneider's brother, an oft-drunk school bus driver, and Oteri playing Sandler's middle school ex-girlfriend, who now works for his wife (Salma Hayek, improbably enough). Grown Ups 2 shoots this summer, and will hit theaters July 12, 2013 whether you like it or not. [Variety]
After years of talk, Robert Rodriguez's Sin City: A Dame to Kill For is finally picking up steam, and we have the first teaser poster to prove it.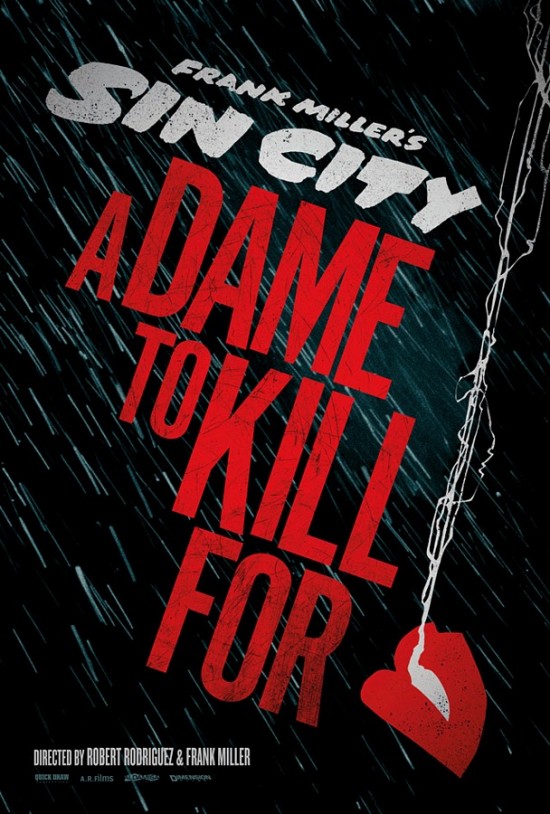 It's not very revealing, but it is perfectly appropriate for the dark, gritty, highly stylized world we were introduced to in the first Sin City. Shooting on Sin City 2 is expected to begin this summer. [via CBM]
You may be looking forward to this summer's G.I. Joe: Retaliation, but judging his stern pose in this new photo, villain Cobra Commander (Faran Tahir) isn't so much.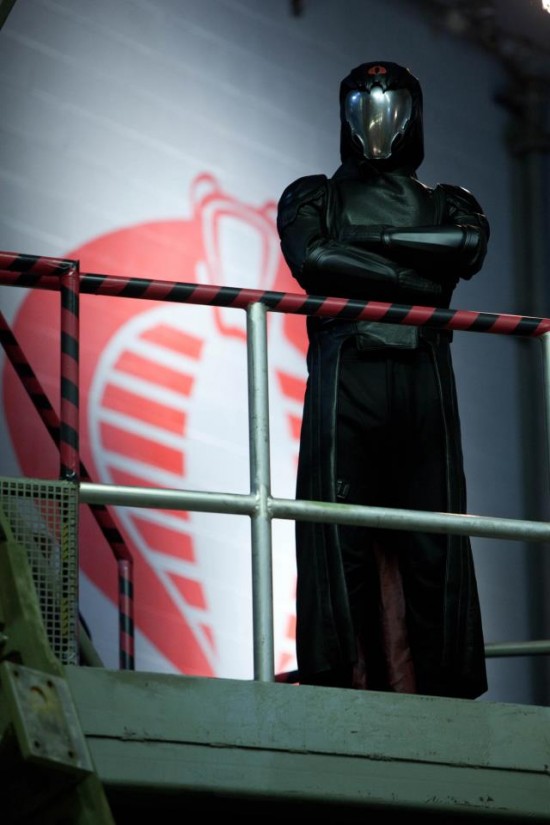 G.I. Joe: Retaliation will blaze into theaters June 21. [via CBM]
Writer Seth Grahame-Smith's first collaboration with Tim Burton, Dark Shadows, only hit theaters this past weekend, but there are already more to come. Among them are that Beetlejuice sequel that was announced back in September, which Grahame-Smith says he's starting now.
"I have [written something] but it's not something I'm ready to share," he said. For inspiration, Grahame-Smith is taking a very close look at the first Beetlejuice:
First you go back and look at the original movie, listen to Danny's score again and again and you try your best to capture what was special. In that movie, though, there was a lot of accidental genius in it as well. I hope we get to do it and bring everybody back but I rather not do it then do the bad- just-because-we-can version of it.
As a fan of the original himself, Grahame-Smith is very aware of the scrutiny he's facing from those who loved the original:
I don't want to face the fans. I already write things that make people mad; some things are already controversial enough. I don't want to face my fellow fans and apologize for having made the bad Beetlejuice sequel. It's all very exciting but intimidating all at once. You asked for the ball, now it's yours, and what are you going to do with it? If I don't get it right, I would rather be honest and say, "Let's not do this."
Well, at least it sounds like his heart is in the right place. [via Movies.com]
There were 28 years between the original Tron and its 2010 sequel Tron: Legacy, but fans won't have to wait quite so long for more chapters in the saga. This summer marks the debut of Tron: Uprising, an animated series on Disney XD that takes place between the events of the two films. Producers Edward Kitsis and Adam Horowitz explained what inspired them to revisit that tale:
HOROWITZ: In writing Tron: Legacy, we had two hours to tell a story and a world that was so exciting and rich to explore. Tron: Uprising has been an amazing opportunity to explore the time between Legacy, when we see Clu overthrow Flynn and Sam's arrival at the beginning, and take that time period and really go out into the Grid and see what happens.
KITSIS: When we wrote the movie, you would see a scene where they would pass through other sectors, and we always wanted to explore one of those sectors. So, for us, Tron: Uprising really explores the Grid, what it means to be a Program, what it means to be a Program going from living under Flynn to living under Klu, and we really get to dig deep into the world. This will allow us to really explore it in a deeper way. Not deeper than the movie, but we really get to explore the little sections of the Grid that we didn't have time to show you.
The pair also confirmed that they are still involved with Tron 3, though they're no longer set to write the script:
KITSIS: We were actually beginning to write the sequel, and then Once Upon A Time happened and we had to step off. Adam and I have been made co-producers of it, and Disney hired a great writer, Dave DiGilio. We've seen the first draft and we're very excited.
A few months ago, Paramount Pictures sued the estate of Mario Puzo, original Godfather author, to stop the publication of an unauthorized prequel titled The Family Corleone. The Puzo estate quickly countersued, claiming that Puzo's contract with the studio did not cover book rights. But the legal issues didn't prevent the book from hitting shelves last week, thanks to an agreement made between the studio and the estate a few weeks ago to put the book's profits in escrow until the debate over publishing rights get sorted out.
For now, if you want to learn about the Corleones' backstory, you'll have to buy the book. But the studio, of course, hasn't ruled out the possibility of a movie. Paramount's lawyer notes that things could get more complicated if "there's an attraction to do a movie," which, knowing Hollywood, there probably is. [Deadline]
Jon Favreau may not be directing Iron Man 3, but as the director of the first two entries, he apparently remains "very involved," and approves wholeheartedly of the direction it's going in. "I think it's a really smart way to go," he said of Marvel Studios' choice to get filmmaker Shane Black on board.
After Avengers, you want to start with something really bold and inspired, and if you've ever seen Kiss Kiss, Bang Bang you've seen that when [Robert Downey Jr.] and Shane get together, interesting and unexpected things happen, and I'm happy to see that it's taking a bit of a tonal shift from The Avengers and it's going to be something completely different and exciting, and I'm happy to be a part of it.
Favreau described the tone as "a little more offbeat" than previous installments, and revealed that the new film "delves deeper into what makes Tony Stark tick, and plays on the unexpected original unpredictable quality of the character that I think fans gravitate to." [THR]