First Look: Ashton Kutcher As Steve Jobs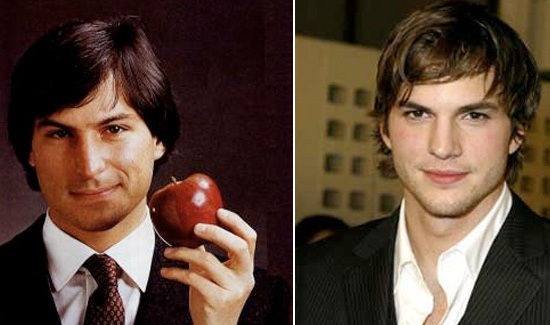 The news that Ashton Kutcher had been cast as late tech guru Steve Jobs for the indie biopic Jobs: Get Inspired raised a few eyebrows when it was first announced, in part because it broke on April Fool's Day. But the producers weren't joking around, and we now have our first look at the Two and a Half Men star clad in a familiar-looking black turtleneck and 501s. Get your first look at Kutcher's Jobs after the jump.
Of course, there's much more to playing a real-life character than simply looking and dressing the part, and I remain not entirely convinced that Kutcher was the right pick for the job. But producer Mark Hulme has been enthusiastic about their casting choice, telling press that Kutcher was chosen for his ability to convey Jobs' "pscychological complexity" as well as their obvious resemblance.
In any case, with shooting currently underway for a fall 2012 release, it won't be long before we see how this pans out. Joshua Michael Stern (Swing Vote) is directing from a script by Matt Whiteley, which follows Jobs' early years at Apple. Book of Mormon star Josh Gad was cast in the part of Apple co-founder Steve Wozniak a few weeks ago; other real-life figures expected to appear in fictionalized form are former Apple CEOs John Scully and Mike Markkula and early Apple employee Daniel Kottke.