'Tron: Uprising' Animates Everything You Love About 'Tron' And More; Watch The First Episode Now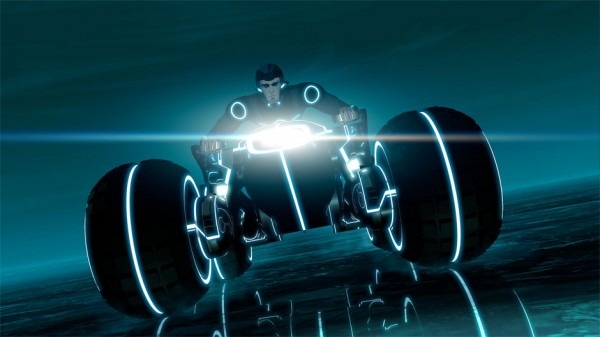 By its very nature, the world of Tron has always been about the visuals. It's a franchise set inside a video game where programs live on a digital grid, compete in games and get around on cycles that leave bright, beaming trails of light in their wake. The original 1982 film was a milestone of special effects and its 2010 sequel pushed the bar of what 3D and digital effects could be. However, in live action, that kind of visual aesthetic can be expensive so taking Tron into the animated world, where anything is possible, seems like a perfect marriage.
Tron: Uprising, a new animated show on Disney XD, takes place between the two films and tells a new story with familiar characters. It also happens to be everything the Tron movies always wanted to be but never were. At least, that seems to be the case from its pilot episode/prequel, Beck's Beginning, which fans can see on May 18 on Disney Channel and May 21 on Disney XD before the show premiere June 7.
Or you can watch the entire first episode, in full, after the jump as well as read more about what Tron: Uprising has in store.
Tron: Uprising is the story of Beck (voiced by Elijah Wood), a program from a far corner of The Grid called Argon City who sees the evil ruler of The Grid, Clu (a likeness of Jeff Bridges though he's not in the show) begin to take over his city. Beck assumes the identity of the mythic fallen warrior Tron to try and get back at Clu and, as a result, starts a revolution.
Much of that is in the first episode, including supporting characters voiced by Emmanuelle Chriqui, Mandy Moore, Paul Reubens, Nate Corddry, Lance Henriksen, Bruce Boxleitner and others. But what really makes Tron: Uprising so cool and perfect for animation is that the world of Tron now has no boundaries.
In the films we had light cycles. Here we have light cycles, light quads, light helicopters, even gloves that shoot out light tracks. Even the simplest thing, such as the repair of a machine, is put through the Tron filter and made unique and surprising. Everything is told with an energy and pace that's rare in animation and it drives the action forward quickly and with gravitas. There's an action scene on a train in Beck's Beginning that's way bigger than anything seen in Tron: Legacy and that movie cost almost hundreds of millions of dollars.
The show is from the same braintrust at that movie, too. Screenwriters Edward Kitsis and Adam Horowitz wrote the pilot and are executive producing the show. Composer Joseph Trapanese, who worked with Daft Punk on the movie, is doing all the music. The designer who designed the vehicles in the movie is working on the show (and really ups his game with some gorgeous new vehicles, a staple of the Tron universe). Though its animated, Tron: Uprising feels cinematic in almost every way.
However, because the show is inspired by the film, it also carries the problem of the film's inevitability. The target audience – young boys – probably won't realize or mind but since Legacy is after Uprising, we know the evil Clu is still running the Grid. Tron is alive works for him as a character named Rinzler and Beck is nowhere to be found. It's pretty obvious that Beck will not succeed in freeing The Grid. That task will fall to Sam Flynn in the film.
But who is to say how much time passes between the tow or what time even means on The Grid? The two movies were almost thirty years apart, which leaves not only a lot of wiggle room in terms of story, but room to help fill in many of the gaps Tron: Legacy provided.
With any luck, the rest of Tron: Uprising will live up to the high quality of its pilot episode and draw in tons and tons of fans. If that happens, maybe we'll actually get to see a theatrical Tron 3. If not, Tron: Uprising has enough action, intrigue and potential to fill their Grid for years to come.
But don't take my word for it. Here's the full pilot to Tron: Uprising called Beck's Beginning: