Sequel Bits: 'Smurfs 3,' 'Hancock 2,' 'Star Trek 2,' '56 Up,' 'MIB 3,' 'The Shining,' 'Contagion 2'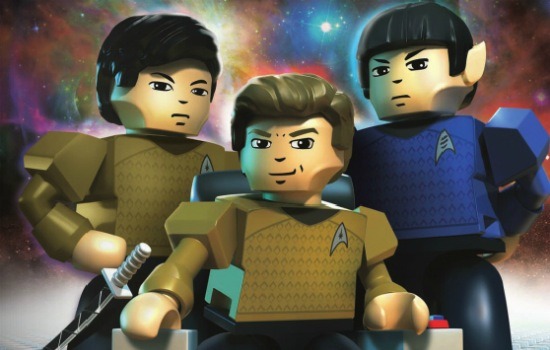 When it comes to news about sequels, you really can't get more varied than the news you're about to read in this column. We've got documentary sequel news, news on a sequel to a sequel that isn't even out yet, news on a sequel that will likely never happen, news on a sequel to a movie that shouldn't have a sequel and more. After the jump read about:
Writers have been tapped to write The Smurfs 3 well over a year before The Smurfs 2 hits theaters.
Will Smith would be interested in doing Hancock 2, but there's no active development.
Get your first look at the crew of Star Trek 2 as Lego characters.
The latest installment in Michael Apted's Up series, 56 Up, premieres May 14.
A new Men in Black 3 featurette focuses on the time-twisting story.
The plot synopsis for Doctor Sleep, Stephen King's sequel to The Shining, is now online.
Warner Bros. is reportedly developing a sequel to Contagion.
The first live action Smurfs movie eventually grossed $563 million for Sony so when they put a second film into production immediately and tagged it with a July 31, 2013 release date, it made sense. They must really like what they're seeing though because word from Variety is they've just hired Karey Kirkpatrick and Chris Poche (Over the Hedge) to write Smurfs 3. If the release schedule holds, it'll likely be out in 2015.
A quick glance at Will Smith's IMDB page is like a glance at a fanboy wishlist, filled with sequels we might never see: Bad Boys 3, Independence Day 2, I Robot 2 and Hancock 2. Bad Boys 3 actually got pretty close at one time but, according to Smith, Hancock 2 isn't in any kind of active development. He'd definitely be interested though. Here's his interview with MTV.
Get More: Movie Trailers, Movies Blog
Collider got their hands on the below image of Kirk, Spock and Sulu (Chris Pine, Zachary Quinto and John Cho) from Star Trek 2 as "Kre-O" Lego characters. There's no release date or anything like that but it's cool to check these bad boys out.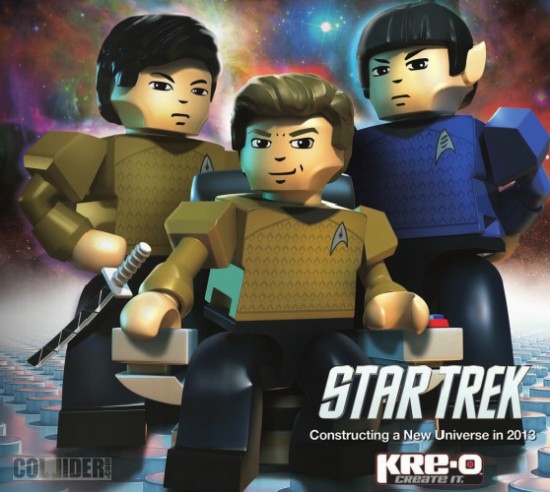 Has it been seven years already? Apparently so. The latest installment in Michael Apted's almost unbelievable documentary series, Up, has now reached its eighth installment: 56 Up. The series, which has now been going on for just under half a century, has checked in with a group of same age people every seven years of their life to see how things have changed. Many of them are currently on Netflix Instant if you haven't seen them and, according to The Guardian (via The Playlist) 56 Up will premiere in three parts on May 14 on ITV in the United Kingdom, where the people mostly live. There's no word on a U.S. release but it'll likely be soon.
Movieweb has posted a new featurette focusing on the story behind Men in Black 3, which opens in the U.S. May 25. I've seen the film, am embargoed from telling you more than that but will say this featurette is fairly spoiler free and a good tease leading up to the movie.
Did you know Stephen King wrote a sequel to The Shining? It's true. It's called Doctor Sleep and will be released in 2013. Movies.com noticed an update on King's official website offering the following plot description:
Stephen King returns to the characters and territory of one of his most popular novels ever, The Shining, in this instantly riveting novel about the now middle-aged Dan Torrance (the boy protagonist of The Shining) and the very special twelve-year-old girl he must save from a tribe of murderous paranormals.
On highways across America, a tribe of people called The True Knot travel in search of sustenance. They look harmless—mostly old, lots of polyester, and married to their RVs. But as Dan Torrance knows, and tween Abra Stone learns, The True Knot are quasi-immortal, living off the "steam" that children with the "shining" produce when they are slowly tortured to death.
Haunted by the inhabitants of the Overlook Hotel where he spent one horrific childhood year, Dan has been drifting for decades, desperate to shed his father's legacy of despair, alcoholism, and violence. Finally, he settles in a New Hampshire town, an AA community that sustains him, and a job at a nursing home where his remnant "shining" power provides the crucial final comfort to the dying. Aided by a prescient cat, he becomes "Doctor Sleep."
Then Dan meets the evanescent Abra Stone, and it is her spectacular gift, the brightest shining ever seen, that reignites Dan's own demons and summons him to a battle for Abra's soul and survival. This is an epic war between good and evil, a gory, glorious story that will thrill the millions of hyper-devoted readers of The Shining and wildly satisfy anyone new to the territory of this icon in the King canon.
Finally, The Wrap has uncovered that Warner Bros. is quietly developing a sequel to Contagion, Steven Soderbergh's 2011 thriller about a virus that almost wipes out the globe. The only information given beyond that is that Scott Z. Burns, who wrote the first film, will produce this time.