Huge Gallery Of New Images From 'Prometheus'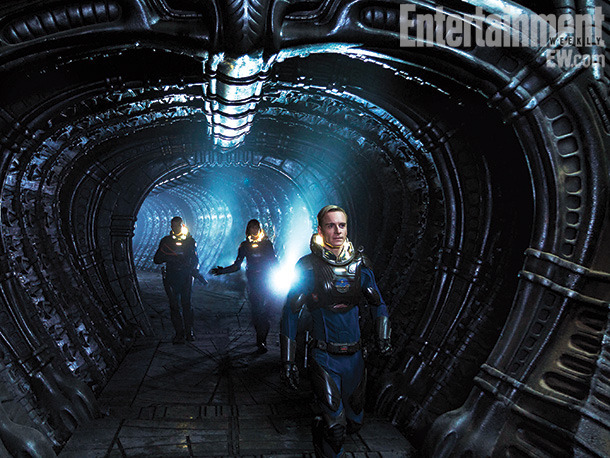 We're less than a month away from my #1 anticipated film in a great, great year of movies: Ridley Scott's Prometheus. The sort-of Alien prequel starring Noomi Rapace, Michael Fassbender, Guy Pearce, Idris Elba and Charlize Theron opens June 8 and the news of its R-rating is just the latest in a long line of fantastic updates on the 3D, sci-fi epic.
The latest comes from Entertainment Weekly, the May 18 issue of which (out Friday), will be graced by the film. While the story itself has yet to come online, they've updated their site with 17 new looks at the sets, costumes and stars of the highly anticipated summer film. Check them out below.
Thanks to Entertainment Weekly (via SHH) for these images. They're largely spoiler free, but I'm sure people looking to avoid almost everything might find one or two objectionable images below.
Seeing the costumes in a bright, studio setting really showcases how beautiful they are. The orange highlights are simply stunning. Also, if you look close enough, you can now see the patch of the company Prometheus is working for, "Weyland MegaCorp," I believe it says. That's seems like a nice morsel for people excited about the film.
The other highlights here are the behind the scenes shots, such as 5 and 11. Seeing how Scott places his camera, and wraps it up all in plastic to avoid the elements, is one of those fun, off camera details fans so rarely get to see.
Writing this piece, I was chatting with Russ and we're both just about done with this movie. We were sold on the first trailer and which each subsequent one that's released, more and more is being revealed. I'm positive there's a bunch more that's not been revealed but I kind of wish the movie could open right now.
Which of the above images is your favorite?