'The Odd Life Of Timothy Green' Trailer - Magical Plant Boy Teaches Life Lessons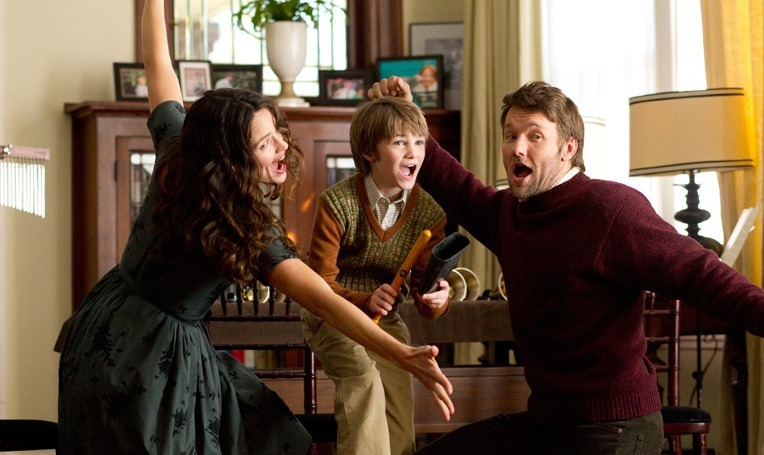 Just in time for Mother's Day, Disney has unveiled a brand-new trailer for its family-oriented fantasy The Odd Life of Timothy Green. Jennifer Garner and Joel Edgerton star as a loving couple who finally give up on their dreams of having a child, only to find an adorable Manic Pixie Dream Son on their doorstep the next day. Because I tend not to love kids, I find that set-up more frightening than enchanting. If you like this kind of stuff, though, you could probably do worse than this movie. Watch the video after the jump.
[MSN]
For a second there it looked like the trailer was going to take a horror twist. I half-expected a dirty hand to shoot out of the wet mound of dirt, zombie-style. But no, it's an uplifting Disney fairy tale, so only scary part of this movie is the fact that this kid apparently has leaves growing out of his legs. That image, I found viscerally disturbing.
Otherwise, The Odd Life of Timothy Green is just plain sweet — maybe too sweet. I get that Timothy literally being a dream come true is the whole idea, but he's so perfectly angelic that I can't help but root for him to get taken down a peg. On the other hand, Garner and Edgerton are very likable together, and the subplot with the strange little girl seems like it could be going in an interesting direction. Plus, there's some really gorgeous, colorful imagery in here.
The Odd Life of Timothy Green opens August 15.
Academy Award–nominated director/writer Peter Hedges (Dan in Real Life, What's Eating Gilbert Grape?) brings enchantment to the screen with The Odd Life of Timothy Green, an inspiring, magical story about a happily married couple, Cindy and Jim Green (Jennifer Garner and Joel Edgerton), who can't wait to start a family but can only dream about what their child would be like. When young Timothy (CJ Adams) shows up on their doorstep one stormy night, Cindy and Jim—and their small town of Stanleyville—learn that sometimes the unexpected can bring some of life's greatest gifts.