POTD: 'Cosmopolis' Star Robert Pattinson Recreates Classic David Cronenberg Films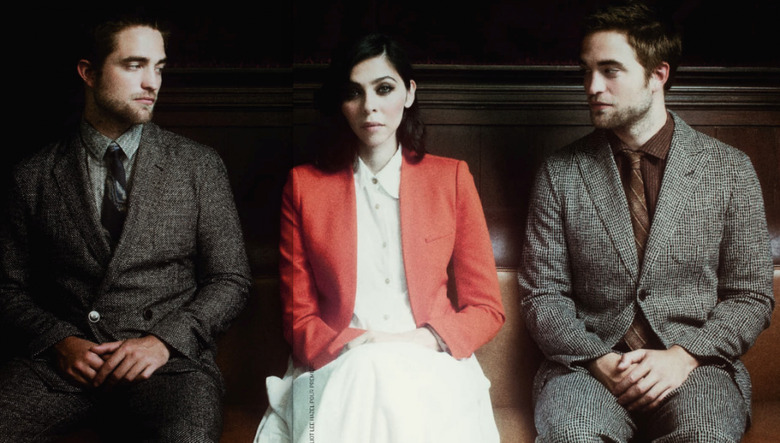 Now that Twilight is almost over, Robert Pattinson is on the verge of being able to move on to the next phase of his career — presumably one in which he won't be tied to a franchise he evidently despises. David Cronenberg's new film Cosmopolis could end up being the anti-Twilight, and Pattinson is embracing chances to promote it.
Contacted to do a promo photo shoot for Premiere France, Pattinson was asked about doing some still image nods to earlier Cronenberg films. He embraced the idea, and evidently pushed the images to go even weirder than originally planned. Check out the results, and name the films being referenced, below.
Movies.com points out the pics, and to a translated explanation of the shoot on Cosmopolisfilm:
To say that he got involved in the making of the photoshoot is an euphemism. The first images of Scanners and Videodrome we prepared for him as an inspiration for the future snapshots came back to us with an unexpected commentary: Rob was sorry that they weren't more daring, wanting to push all the limits with this shoot – the complete opposite of what someone in his position would have asked. Two days later, the photograph Eliot Lee Hazel and his crew – sort of strange for this kind of shoot (a special effect makeup artist, a pregnant lady ...) – met in a gloomy hotel in downtown L.A. to give the go-ahead of this shoot that lasted for exactly 13 hours. After seeing the results of this shoot, we're ready to bet that you won't look at Robert Pattinson the same way again. That the last pretense who might still weigh on the actor will fly away as fast as they appeared.
I think the part I like best about this shoot is that, in the Scanners-influenced photo, Pattinson isn't taking on the role of the protagonist. Rather, he's the semi-antagonist played by Michael Ironside.