First 'Breaking Bad' Art Revealed: 'My Name Is Walter Hartwell White' By Daniel Danger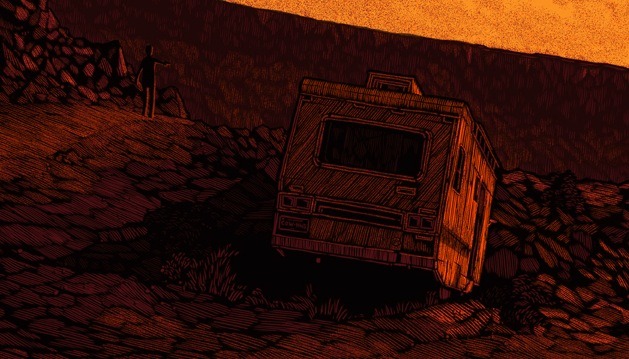 Monday we exclusively revealed something extremely exciting for Breaking Bad fans. An online, viral marketing campaign (or ARG, alternate reality game) was launched over at BreakingGifs.com that will eventually reveal 16 pieces of high end, limited edition art by some of today's most well-known artists leading up to the premiere of the final season of the show this summer.
The event began Wednesday night in New York City as Hood Internet took the stage, only to be joined by Gus (Giancarlo Esposito) who helped reveal a URL. At that URL lay the first piece of art in the series, a scene from the pilot episode by Daniel Danger. This 12 x 36 inch beauty called My Name Is Walter Hartwell White will be up for sale today, Thursday and only 300 will ever be made. Check it out below as well as a video from the event.
Here's Daniel Danger's piece, My Name Is Walter Hartwell White, for the BreakingGifs ARG. Click to see a larger version.

Keep an eye on ThisAintChemistryThisIsArt.com for when this piece goes on sale. Of course it will look much better in person than online.
Also, here's a video of Wednesday night's event to give you an idea of the madness that's about to take place. Yes, that's a brand new Breaking Bad theme song remix.
Giancarlo Esposito kicks off Breakinggifs.com from Gif Breaking on Vimeo.
If you're a fan of the show and curious about this, and the art, there are 15 more to go. But as we won't be posting every single one, you'll have to keep an eye on BreakingGifs.com for the reveals of each piece of art. If you follow closely enough with all the clues and stuff, you'll likely be able to find out exactly when each piece goes on sale. Here's some more info directly from the site:
"Breaking Gifs" is a Breaking Bad Art Project. Which we should all just admit right now – is pretty awesome. One thing to keep in mind, you can participate from right in front of your computer screen. In other words, every hint/clue will also be posted right here, or on other website(s), so you don't really have to go anywhere to be involved. If you do find yourself going somewhere that is talked about on our webpage, even though it is not mandatory, we ask that you to be courteous, extremely safe and know we would never ask you to do anything against the law or that could put you or anyone else in harm's way. Please use common sense and caution, as everyone will have the same chance if they just keep their eye on the prize. Let's do this.
And this:
As we approach the new season of "Breaking Bad," to celebrate and honor a show truly kept alive by its fan community, 16 of the top artists and graphic designers have been commissioned to create screenprints depicting some of the series' most memorable scenes, characters and shocking moments. These screenprints are hand-pulled, each its own individual work of art, in an edition of just 300, with only 200 available to the public through this project. Once the edition is sold out, they will never be printed again. Breaking Bad is hands down one of the the best shows on television, if not the best, and what better way to celebrate the show than with these affordable, and very limited, art pieces for your walls.