Marion Cotillard Says Her 'Dark Knight Rises' Character Is NOT Talia Al Ghul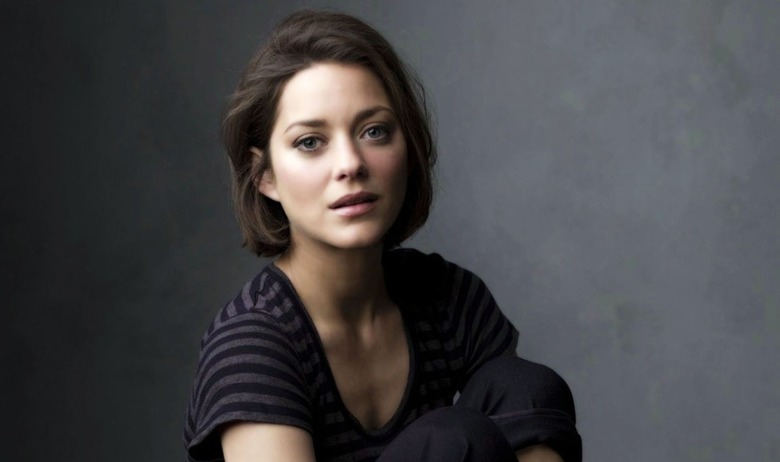 Would an Oscar-winning actress lie to us all? That's what I'm wondering after reading the latest comments from Dark Knight Rises co-star Marion Cotillard. The actress plays a character named Miranda Tate in Christopher Nolan's upcoming film and rumors have run ramptant (almost to the point of being considered fact) that she's actually Talia Al Ghul, daughter of Ra's Al Ghul, who was played by Liam Neeson in Batman Begins.
However, in a new interview, Cotillard was posed with that question and instead of playing it coy and ambiguous, she flat out said she does not play Talia Al Ghul and that Tate is a force for good all the way through the movie. Read her quote and the evidence against it after the jump.
The quote (which was already featured in today's Superhero Bits) comes from an interview with The Hollywood Reporter. Here's the excerpt from the profile:
The actress started filming Knight in June 2011, working on and off until the fall in locations including Los Angeles, New York and Pittsburgh. She says there were long gaps when she wasn't needed: "It was a very, very small role."
Otherwise, Cotillard is coy about the picture, whose storyline has fueled pages of Internet speculation. All she'll confirm is that, contrary to some fans' belief, she does not play Talia, the vengeful daughter of Liam Neeson's character, Ra's Al Ghul (who also appeared in Batman Begins), and that she takes the role of Miranda Tate, an ecologically minded businesswoman who "is fascinated by Wayne Enterprises. They go through difficulties, and she wants to help provide the world clean energies. She's a good guy." But does she stay that way? "Yes," she insists.
So that's her stance at this moment. I'm going to talk more about it below but to do so will have to delve into some spoilers for The Dark Knight Rises. Proceed at your own risk.
If Cotillard is telling the truth, then it seems like she's certainly leaving out some major details. The evidence for her being Talia – or at least something important – is pretty staggering.
She's been photographed wearing a very non-business woman costume (check that out here, thanks MTV) in the midst of what seems to be a massive action scene. Liam Neeson has been confirmed to return in the movie, albeit it in a small capactiy, and an actor (Josh Pence) was cast to play Ra's as a child. To not have Talia pose as Miranda to get in close to Bruce, only to flip on him, would seem almost like missed oppurtunity.
Plus, if it's a small role, why cast an Oscar winner? Why call her specifically for the role and agree to change production around her (these are all things mentioned in the THR article too)?
So we'll have to wait and see. Do you believe Cotillard or is she lying?