'The Amazing Spider-Man:' 4 Minute Super Preview During 'America's Got Talent,' Tobey Maguire Interviews Andrew Garfield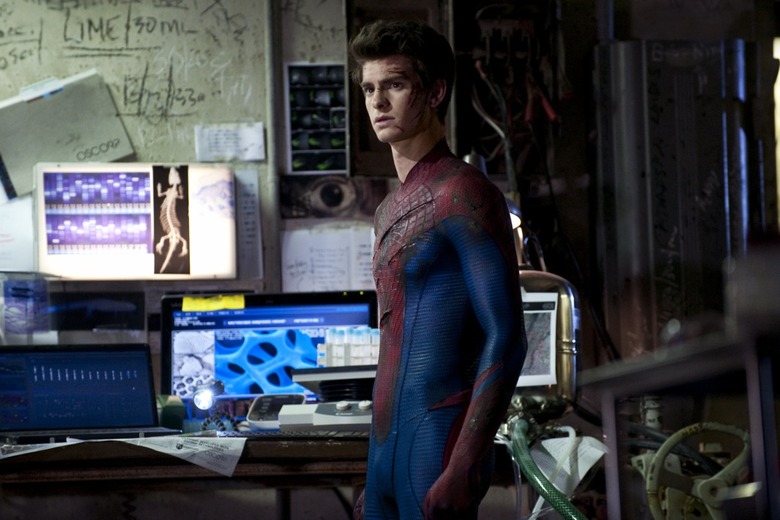 Even if you aren't excited for the debut of Howard Stern on NBC's America's Got Talent next week, now there's a superhero reason to watch as well. According to a new television commercial, a special four minute "super preview" of Marc Webb's The Amazing Spider-Man will air during the show on Monday May 14. We've got the tease below.
In addition, a really fun interview has come online with the new Spider-Man, Andrew Garfield. In it he's interviewed by none other than the previous Spider-Man, Tobey Maguire. All this Spidey-goodness is after the jump.
Thanks to Collider for pointing out this new TV spot teasing the 4 minute "super preview" that'll air during America's Got Talent.
America's Got Talent premieres at 8 p.m. May 14 on NBC. I'm sure the preview will be towards the end of the show, and it'll likely be online soon after.
Next up, over at VMan Magazine, they have the full text of a conversation between Tobey Maguire and Andrew Garfield talking about playing Spider-Man. They both geek out over each other playing the role and it's a really great read. There's talk about how the role changed, or might change, their lives, how the business has evolved, expectations, and how they're fans of each other. Here are a few of the better quotes and, it's important to remember they are to each other but non-consecutive:
Tobey Maguire: Actually, when it was coming together, I was particularly excited at two moments: one was when [director] Marc Webb got involved. I think he's an interesting and cool choice. and then I was certainly curious as to who was going to play Peter Parker. When I heard it was you, I was literally like, F***ing perfect!....I just want it to be great, and I thought, What a great actor Andrew is, I'm glad that's what's happening here.
Andrew Garfield: Peter Parker is such a positive character—he's pure wish fulfillment, an underdog. I grew so much from him when I was a kid, from the comics all the way up to the first movie you were in. I was 19 when I saw [Spider-Man]. I got a pirated DVD at Portobello Market with my friend Terry McGuiness, and we went back to my skanky apartment in North London and we watched it twice in a row and then practiced your final line in the mirror! Terry has this thick accent and every time I would recite that line he would laugh this very distinct laugh and say, "No, man, you could never be f***ing Spider-Man. You'll never be f***ing Spider-Man!" I was so humiliated and upset. But, um...f*** you, Terry!
Thanks to Vulture for the heads up.