From 'The Queen' To Queen: Stephen Frears May Direct Sacha Baron Cohen As Freddie Mercury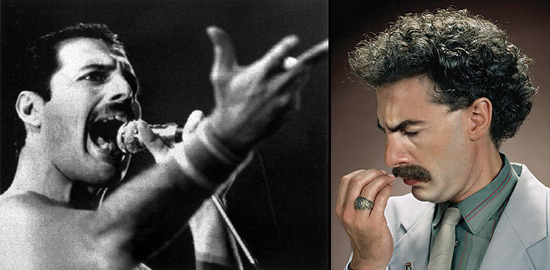 As Sacha Baron Cohen's new comedy The Dictator strolls towards theaters, I know some have been wondering if his plan to play late Queen singer Freddie Mercury remains intact. As it turns out, that plan has not changed, and now Stephen Frears (High Fidelity) is the frontrunner to direct the film that has the backing of remaining Queen members Brian May, Roger Taylor, and John Deacon.
Variety says that Frears isn't locked to direct, and that there are a few other people (unnamed in the piece) who could also get the job. But Peter Morgan wrote the current draft of the untitled Mercury film, and he and Frears have worked together in the past, on The Deal, and The Queen. That could be part of what is bringing Frears to the production. (Prior screenplay work was by Ali and Nixon writers Stephen J. Rivele and Christopher Wilkinson.)
The film will follow the "formative years" of Queen, culminating with the band's 1985 Live Aid performance. Mercury died in 1991, of complications from AIDS, but we won't see his final years in the film.
Thanks to the involvement of the surviving members of the band, the film will feature famous Queen songs such as 'Bohemian Rhapsody' and 'We Will Rock You,' though we don't know if Cohen will sing in the film.
This is good news for those interested in the film, as the last update we had was a too-optimistic one early in 2011, from Queen guitarist Brian May:
Work is now fully under way for the much-vaunted feature film on the life of Freddie. Peter Morgan has delivered a first draft of the movie, which everyone is very excited about, and Sacha Baron Cohen is chomping at the bit to get into the role, in a way which certainly would delight Freddie ! The whole team now working on preparing for a shoot later this year, and a release in the late Autumn of 2012. We are also laying the foundations for WWRY THE MOVIE, and again, we already have a great script for it from Ben.