Gallery: Gorgeous Concept Art From Marvel's 'The Avengers'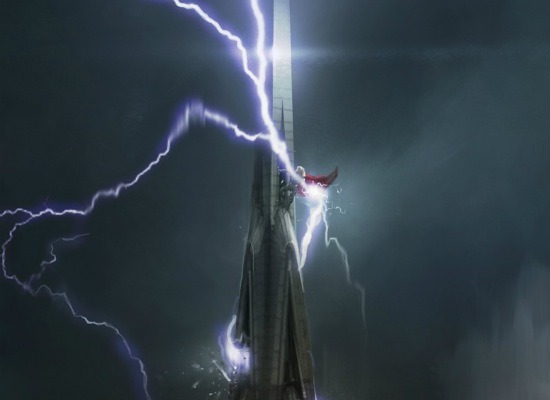 Before a movie is released, fans want to know everything they can about the plot. When a movie is released, they enjoy the discovery of what's actually on screen. Then, after a movie is released, they try and learn everything about its creation. Believe it or not, that's the point we're already at with The Avengers. Fans have begun to pour over the minutia of Joss Whedon's Marvel universe, looking for Easter Eggs, deleted scenes and stories from the production of the film. This will help.
Two concept artists who worked on The Avengers, Nathan Schroeder and Steve Jung, have each posted a bunch of images from the inception of the film. They reveal truly stunning looks at what would eventually be realized on screen. Check them out below.
Thanks to Comic Book Movie for pointing us to the sites of Schroeder and Jung. Here are just a few of the images:
You can see many more images at the above links, but these are some of the best.
A few things to note. You can plainly see that each of these artists were asked to conceptualize the Helicarrier and that both their designs looks almost exactly like it does in the film. Jung's work seems to focus on several of the bigger action beats in the movie (how awesome is that Black Widow image!?) and Schroeder focused largely on S.H.I.E.L.D and the interior spaces of the Helicarrier. Almost all of these images look exactly like it eventually would in the movie, too, a testiment to how fantastic the work by both artists was. Also, that image from the post-credits scene is more elaborite than it ended up in the movie. I'd be curious why that change was made.
Which of these are your favorite? Can you see any major differences?