'On The Road' Finally Gets U.S. Distribution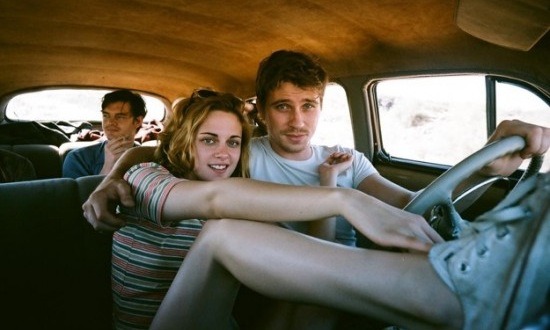 After some thirty-odd years in development, On the Road is finally nearing the end of its long, long journey to the big screen. A week before the film's scheduled debut at the Cannes Film Festival, IFC Films and Sundance Selects (subsets of AMC Networks) have closed a seven-figure deal for the U.S. distribution rights to the Walter Salles-directed adaptation, which features a strong roster of both rising and established stars.
Among them are leads Sam Riley and Garrett Hedlund, who play Sal Paradise and Dean Moriarty (understood to be the fictional alter egos of author Jack Kerouac and his pal Neal Cassady), as well as Kristen Stewart, who plays Dean's wife Mary Lou. Kirsten Dunst, Amy Adams, Tom Sturridge, Danny Morgan, Alice Braga, Elisabeth Moss, and Viggo Mortensen round out the supporting cast. More details after the jump.
AMC Networks plans to roll the film out into theaters through its distribution labels IFC Films and Sundance Selects in late fall. On the Road's pedigree suggests that it could be a serious awards contender come winter, and that late fall slot indicates that AMC Networks thinks so as well. We'll have a better idea of its chances after it plays at Cannes later this month, but for what it's worth, Variety reports hearing great early buzz about the performances and cinematography in particular.
Synopsis:
Just after his father's death, Sal Paradise, an aspiring New York writer, meets Dean Moriarty, a devastatingly charming ex-con, married to the very liberated and seductive Marylou. Sal and Dean bond instantly. Determined not to get locked in to a constricted life, the two friends cut their ties and take to the road with Marylou. Thirsting for liberty, the three young people head off in search of the world, of other encounters, and of themselves.
Here's the trailer, in case you missed it when it showed up a couple months ago: