Exclusive: 'Breaking Bad' Viral Begins, Revealing Posters By Your Favorite Artists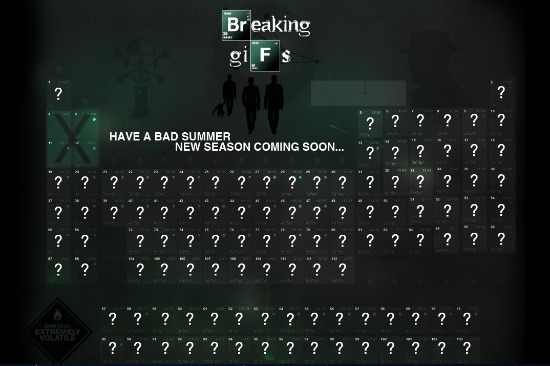 Fans of AMC's incredible show Breaking Bad may not know that, a few months back, comedian Paul Scheer created a site called Breaking Gifs where he would post funny and weird GIF files related to the show. The idea seemed out there, fun but also incredibly suspicious. In 2009, Scheer did something similar for Lost when he started a site called Damon, Carlton and a Polar Bear. At first, the site was just a weird internet thing but it soon evolved into a full blown phenomenon with exclusive pieces of art by Olly Moss, Eric Tan, Tyler Stout, Daniel Danger, Kevin Tong and more. The event is widely thought to have kicked off the current pop culture art craze.
And it's happening again.
BreakingGifs.com has now officially changed formats and we can exclusively reveal it's the start of a viral campaign to promote the upcoming final season of Breaking Bad on AMC. Curated and run by Tyson Givens and Gallery 1988, each week the site will link to a new piece of Breaking Bad themed art by well-known and up and coming artists, all leading up to the show's premiere this Summer.
Read more after the jump.
All of this was hinted at a few weeks ago when Scheer posted the below video, promising something coming soon and featuring a cameo from Breaking Bad showrunner and creator Vince Gilligan. Obviously, Gilligan would not just be participating in some small, unofficial event.
Then, tonight, the site changed to look like you see above. The first question mark hints at some kind of event happening at 9 p.m. Wednesday Night at Irving Plaza in New York City. What will happen there? If we said that, it wouldn't be a viral campaign would it? But you can bet something will be revealed that'll lead people ot the first piece of art.
If the game follows the same pattern that Damon, Carlton and a Polar Bear did in 2009, each week a new clue will be given to a location and at that location, a cool collectible with a URL will be revealed. That URL will link to a piece of art that will go on sale soon after.
If you're interested in this art – and if it's like last time, you should be – keep an eye on this campaign as sometimes the art will be revealed and sold very quickly while other times, you might have some time to decide. When we can, we'll post about it here. So keep an eye on BreakingGifs.com and follow @BreakingGifs
And of course all of this is just a way to celebrate the coming of the final season of one of the best shows on television, Sony's Breaking Bad, which starts later this summer on AMC. After that finale last season, it's one of my most anticipated events of the summer.
Did you follow the Lost campaign in 2009? Will you be following this one?