'Dark Horse' Trailer - Could This Be Todd Solondz's Sweetest Movie Yet?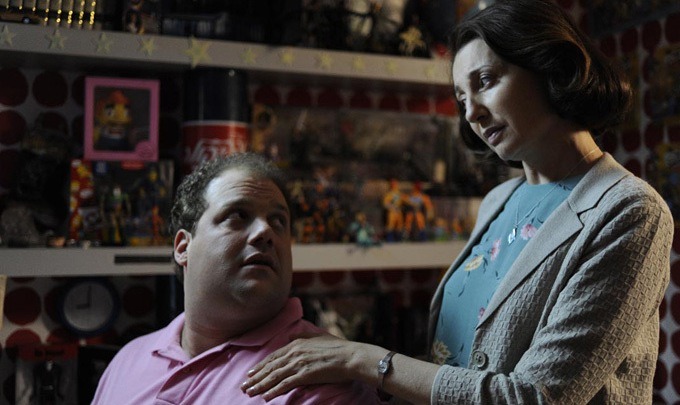 Based on the premise, Dark Horse sounds like it could be another entry from the Judd Apatow comedy collective. Jordan Gelber stars as a schlubby, overgrown man-child who strikes up a relationship with a pretty woman (Selma Blair), and tries to grow up a little bit in the process. But in fact, this is a Todd Solondz film, which means we're in for a significantly darker, pricklier take on the world. Watch the new trailer after the jump.
Gelber is one of those character actors whose face you may recognize, even if you don't know him by name. Over the past decade, he's appeared in Boardwalk Empire and three of the Law & Order series. Joining he and Blair in Dark Horse are Christopher Walken and Mia Farrow as his parents, Donna Murphy as his co-worker, Justin Bartha as his doctor brother, and Aasif Mandvi as Blair's ex.
Dark Horse had its world premiere at Venice last fall, and has since been receiving mixed reviews on the festival circuit. What most critics seem to agree on is that it's a warmer, sweeter work than most of Solondz's oeuvre (which also includes Welcome to the Dollhouse, Happiness, and Life During Wartime, if you need a refresher), but opinion is divided on whether or not that's a good thing.
Time, for one, was happily on board with the tone, calling Dark Horse "Solondz's most waywardly endearing film, his gentlest triumph." On the flip side, Variety felt it was neither pleasant nor ugly enough to be worthy of much attention, while The Guardian observed that "there is little in the film's pitch-black interior that wasn't tackled better – with more bite, wit and abandon" in Solondz's other work.
Dark Horse gets a limited release June 8. Keep an eye on their Facebook page for more updates.