'Killer Joe' Trailer: Matthew McConaughey Murders For Money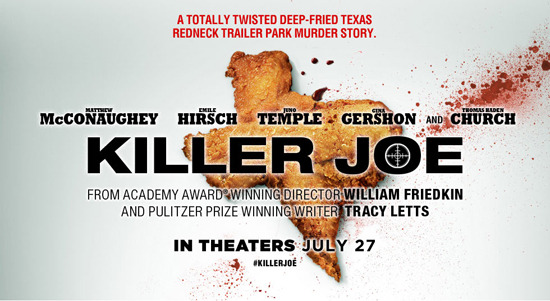 "Dirty deeds, done dirt cheap!" Wait. Hiring Matthew McConaughey to kill someone costs how much? Twenty-five grand? Ok, maybe not 'dirt cheap,' then. Anyway, The Exorcist director William Friedkin is back this year with Killer Joe, a Southern-fried thriller in which McConaughey is hired by Emile Hirsch to kill his mom (Gina Gershon). But complications arise when the killer wants money up front and the kid can't pay. That's where his sister (Juno Temple) comes in.
The film ended up being rated NC-17, and despite whatever intense stuff goes down to earn that rating, it seems like there's a real appeal here when it comes to the performances from McConaughey and the supporting players. I'm thrilled, frankly, to see McConaughey getting a string of roles that really take advantage of his particular talents, and this one looks like a win for him. Check out a trailer below.
Apple has the trailer in HD. Killer Joe opens on July 27.
When 22-year-old Chris (Emile Hirsch) finds himself in debt to a drug lord, he hires a hit man to dispatch his mother, whose $50,000 life insurance policy benefits his sister Dottie (Juno Temple). Chris finds Joe Cooper (Matthew McConaughey), a creepy, crazy Dallas cop who moonlights as a contract killer. When Chris can't pay Joe upfront, Joe sets his sight on Dottie as collateral for the job. The contract killer and his hostage develop an unusual bond. Like from a modern-day, twisted fairy tale, "Killer Joe" Cooper becomes the prince to Dottie's Cinderella. Based on the play by Pulitzer and Tony Award winner Tracy Letts, "Killer Joe" is a garish, provocative black comedy from Academy Award-winning director William Friedkin (The Exorcist, The French Connection) and stars Emile Hirsch, Matthew McConaughey, Juno Temple, Thomas Hayden Church, and Gina Gershon.