Sequel Bits: 'Anchorman 2', 'Piranha 3DD', 'Men In Black 3', 'Scary Movie 5', 'G.I. Joe: Retaliation'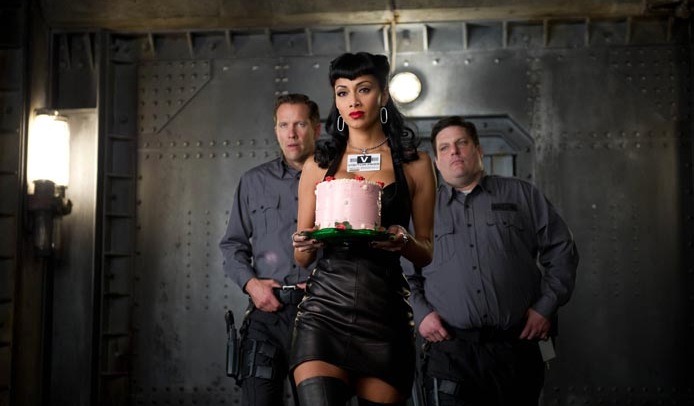 We may receive a commission on purchases made from links.
Because nothing works up the appetite quite like traveling back in time and fighting aliens, Baskin-Robbins is introducing a limited-edition line of Men in Black 3-inspired menu items. Also after the jump:
Will Scary Movie 5 be a Black Swan spoof?
Piranha 3DD soundtrack listing revealed
Anchorman 2 teaser to debut before The Dictator?
Vin Diesel drops another Riddick photo
Expendables 2, G.I. Joe: Retaliation get new posters
The story in "Scary Movie 5" involves the dance world, with a snooty, aloof, imperious, and oversexed French director of a dance company named Pierre putting on a huge production. Jody, a Caucasian late-20's mother of two and her late-20's African American friend Kendra are both vying for the lead in the production. Jody's extremely controlling former dancer mother is determined that Jody will have the brilliant career that eluded her. The highly skilled mid-30's Diva veteran dancer with the company, Heather Daltry, gets cut from the production and goes berserk.
A Black Swan spoof seems like a terribly stale idea at this point, but then it's not like any of their previous installments were right on the cutting edge either. Scary Movie 5 is slotted to open January 11, 2013. [via First Showing]
If you're wondering what kind of music Piranha 3DD will be serving up to go with your boobs and gore, you can check out the soundtrack listing (as posted on Amazon) below:
01. Got Me in a Trance – Marcus Latief Scott
02. Summer School – Twirl 03. C'mon I Can't Wait – Automatic Music Explosion
04. Chemical Kings – The One & Only's
05. The Impatient, the Imperfect, the Impossible – All The Right Moves
06. Open Ya Mind – Sarah Khula
07. Very Busy People – The Limousines
08. Before I Die – Cellphish
09. Flaskaboozendancingshoes – The Limousines
10. Blast – Bobot Adrenaline
11. Quit, You're Being Thoughtless – Moros Eros
12. I'm Always Here – Jason Scheff
13. Summertime – Josh Mobley feat. Reina Williams
14. The Good Life – Amber Pacific
15. Internet Killed the Video Star – The Limousines
16. Head Banger – Robert Etoll
17. Viktors Misery – Bobot Adrenaline
Or, if you'd prefer to get your hands on the score instead, you can pre-order that on Amazon as well. Head to The Playlist to listen to samples of some of the soundtrack tunes.
You know summer movie season is in full swing when you can't so much as buy an ice cream cone without being reminded to watch some big-budget sci-fi sequel. Baskin-Robbins has teamed up with Sony to offer five new menu items linked to Men in Black 3, including one that's actually inspired by a scene from the movie. The other four are just related to MIB3 because Baskin-Robbins and Sony insist they are.
Pink Surprise Cake – Straight out of one of the most pivotal scenes in Men In Black 3, the Pink Surprise Cake is a delicious triple layer ice cream cake made of Oreo® Cookies 'n Cream ice cream sandwiched between two layers of Devil's Food Cake and adorned with pink frosting roses. This custom cake is sure to capture the imaginations of ice cream lovers and "MIBelievers" alike!
Lunar Cheesecake Flavor of the Month – Lunar Cheesecake is making its way back into Baskin-Robbins shops as the May Flavor of the Month to celebrate the time traveling theme of Men In Black 3! Originally introduced in 1969 to commemorate the first spaceflight to land on the moon, this classic flavor features green and white cheesecake ice cream loaded with cheesecake bits and wrapped up in a crunchy graham cracker ribbon.Spacey Sundaes and New Cappuccino Blast® Flavor – Baskin-Robbins is also offering three additional limited time only menu items: the Lunar Lander and Agent 31 sundaes, as well as the Triple Mocha Cappuccino Blast® beverage. The Lunar Lander sundae features Lunar Cheesecake ice cream topped with marshmallow, moist white cake pieces, crunchy graham crackers, caramel, whipped cream and a cherry. In the Agent 31 sundae, guests can enjoy Chocolate Fudge ice cream topped with moist brownie pieces, hot fudge, chocolate sprinkles, whipped cream and a cherry. The Triple Mocha Cappuccino Blast is a rich combination of cappuccino flavor base, milk, Chocolate ice cream and chocolate syrup all blended with ice and finished with whipped cream and a chocolate drizzle.
Yum? [PR Newswire]
Could this finally be a reason to watch Sacha Baron Cohen's The Dictator? According to Reddit user projectmustard, the first (1:07) teaser for Anchorman 2: The Legend Continues will debut in front of The Dictator, which opens May 16. Projectmustard claims to have picked up the news from working "in the industry," but since we don't know who this person really is, I'd urge you to take this intel with a grain of salt.
That said, it's not completely unlikely that Paramount would be eager to get an early start on advertising its long-awaited sequel. If projectmustard's story is true, we'll probably get a stylized logo or something along those lines rather than any actual footage from the film.
Vin Diesel's never been shy about showing off the goods, whether it's pics from the Riddick set or a glimpse of his toned upper body. The latest new image shows a shirtless Riddick (Diesel) looking deep in thought.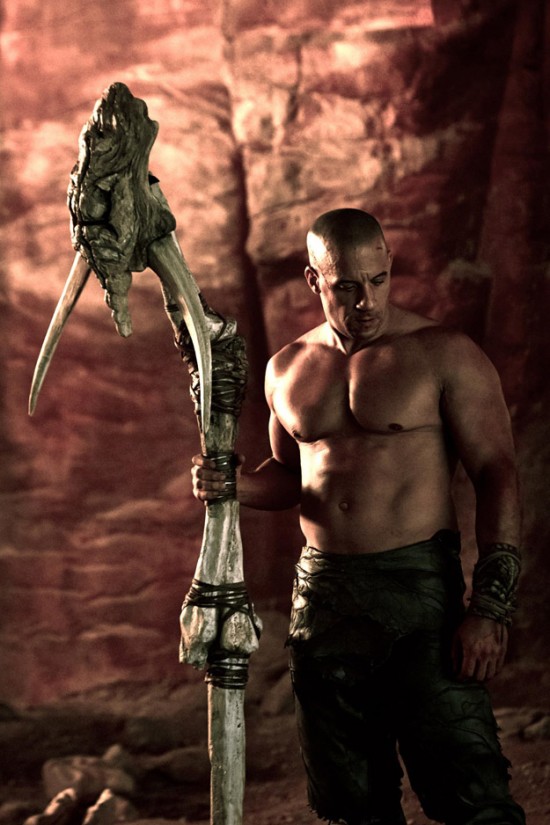 Diesel unveiled the photo on Facebook, with the following caption:
A still from the Riddick set this year... we are in post and I can't tell you how excited I am to see it manifest. You all were such a part of it becoming a reality... willed it into being, so to speak...
P.s. Filming Fast this summer is going to be incredible, haha... Thank you again for the opportunity to make magic.
Directed by David Twohy, Riddick also stars Karl Urban, Katee Sackhoff, and Jordi Mollà. [via SuperHeroHype]
Most of The Expendables 2 cast got character posters last month, but for whatever reason, poor Scott Adkins was left out in that round. Happily, Lionsgate has corrected now corrected its oversight with a new Adkins-centric poster that looks just like all the other stars' posters.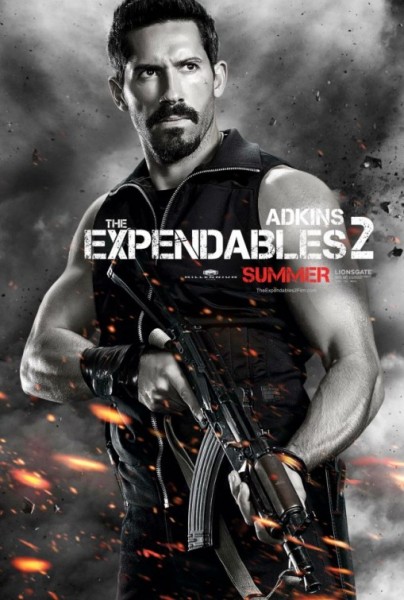 Meanwhile, G.I. Joe: Retaliation has dropped one last theatrical poster featuring Dwayne Johnson, Bruce Willis, and Adrianne Palicki.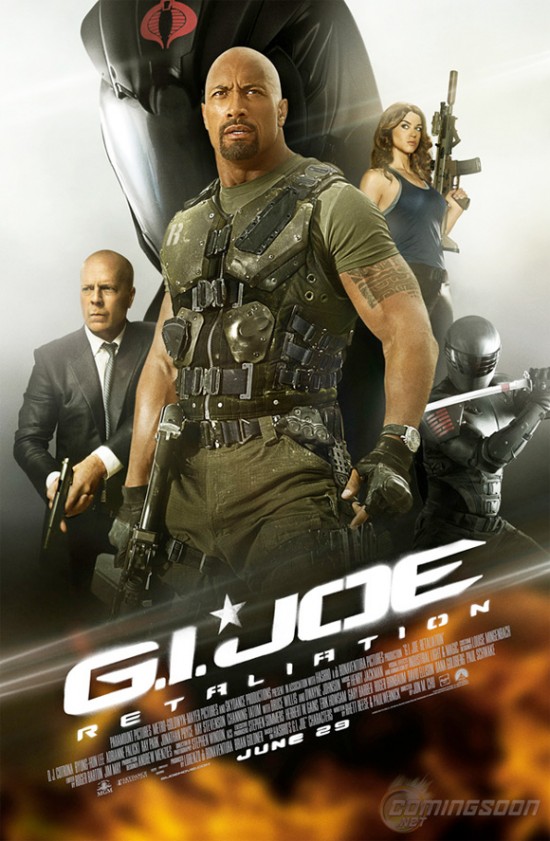 The Expendables 2 hits August 17, while G.I. Joe: Retaliation opens June 29. [via Collider, First Showing]