Sequel Bits: 'Star Trek 2', 'Machete Kills', 'Beetlejuice 2', 'Scary Movie 5', 'Men In Black 3', 'Breaking Dawn Part 2'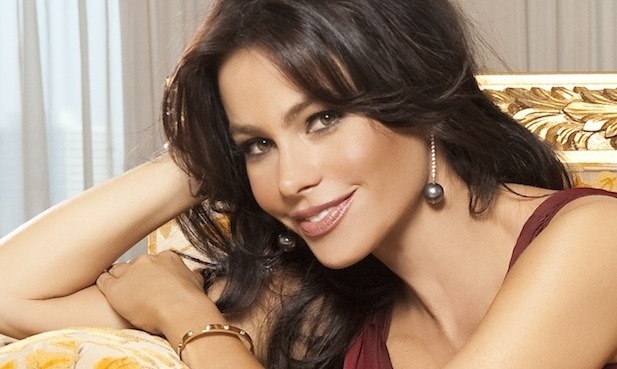 Casting on Machete Kills continues to speed ahead, as Modern Family star Sofia Vergara becomes the latest to sign on. Also after the jump:
Leonard Nimoy has not confirmed a Star Trek 2 cameo
Tim Burton offers a tiny Beetlejuice 2 update
Anna Faris probably won't do Scary Movie 5
Men in Black 3 gets creative with its marketing
Kristen Stewart spills about the Breaking Dawn reshoots
Humans. Please advise. Does "talking" sound like "appearing"? LLAP
It seems the answer is "no" except in some cases.."maybe". Very human. LLAP
Of course, that's not a confirmation that he won't appear, either, so anything's possible at this point. Guess we won't know for sure until Star Trek 2 drops next year — May 17, to be precise. [Trek Movie]
Robert Rodriguez's Machete Kills is continuing to expand its female cast, as Sofia Vergara (Modern Family) enters talk to join Jessica Alba, Amber Heard, and Michelle Rodriguez in the film. The sequel sees ex-federale Machete (Danny Trejo) called upon by the U.S. government to stop two destructive men: a cartel leader and an arms dealer (Mel Gibson). Damien Bichir also stars, in an unknown role.
Vergara would play "the leather-clad Madame Desdemona, whose Mexican harlots have information that Machete needs." Machete Kills will start shooting in Austin this month. [Variety]
There hasn't been much movement on Beetlejuice 2, but rest assured it's still in the works. While doing press for Dark Shadows, Tim Burton offered a small update on the film, which has Seth Grahame-Smith and David Katzenberg lined up to write.
"Seth is writing something. I just told him because I liked the character, I just thought I'd have a better response if he has ideas about it to just let him [work on it]," he told Shock Till You Drop. As for whether he'd be directly involved in the project, Burton responded, "If it's interesting. I don't know if I'd ever know a good script if it bit me in the face, but I know what I like."
Meanwhile, Grahame-Smith, who also wrote Dark Shadows, acknowledged that "Everyone is waiting for me to get my ass in gear." The scribe noted that he'd just finished a script for Burton's Night of the Living, and would be moving on to an adaptation of his own book Unholy Night next. Presumably, he'll get started on Beetlejuice 2 sometime after that. [via Coming Soon]
In light of the fact that Anna Faris seemed unaware that Scary Movie 5 had even hired a director, perhaps it's not surprising that the franchise's former leading lady thinks it unlikely she'll return for the next installment.
"No, I don't think I'm going to do it," Faris told Coming Soon. "I don't think I'm part of that. I don't know exactly what's happening with it, but I hear it's sort of in the works and stuff." It'll be sad to see her go, but here's hoping it's because she's moving on to bigger and better things.
All those clips that Sony's been dropping for Men in Black 3 have left me unmoved, but this newest bit of marketing is pretty clever. A Reddit user snapped this photo of a fake issue of Weekly World News (which went out of print in 2007, but still maintains a website) teasing the truth about the "men in black suits."
You can also read more of WWN's "coverage" of the "men in black suits" here. Men in Black 3 opens May 25.
Last month, cast and crew of The Twilight Saga: Breaking Dawn Part 2 headed back into Vancouver for reshoots. At the time, director Bill Condon stressed, "We're not shooting any new scenes or dialogue, just some technical work with some of our cast and stunt actors," and now star Kristen Stewart has opened up a bit more on the nature of the reshoots.
"We were doing just more of the hunt in the beginning, the first hunt is always so important," the actress told Jay Leno, referencing her character's transformation into a vampire in the last film. "I just wanted more of it. We all wanted more of it." Stewart added that she'd suffered a puncture wound to her foot during the shooting.
Stewart also touched upon her experience working with 11-year-old Mackenzie Foy, who plays her daughter in the film. "Mackenzie Foy is the coolest actress I've ever worked with," Stewart said. However, she was less enamored with the props used to portray Foy's character in her younger years, calling them "little Chucky dolls." Breaking Dawn Part 2, the final installment in The Twilight Saga, will bow November 16. [THR]