Arnold Schwarzenegger To Star In 'Ten' From 'Training Day' Writer David Ayer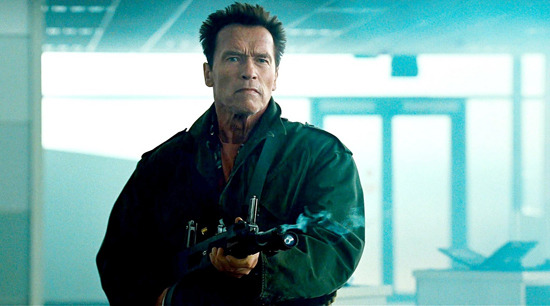 Last week we saw a trailer for End of Watch, the film Training Day writer David Ayer wrote and directed with Jake Gyllenhaal, Michael Pena, Anna Kendrick and America Ferrera starring. Now we've got word that Ayer's next film will be Ten, a 'cops and drugs' thriller written by Skip Woods (The A-Team, A Good Day to Die Hard). To star, Ayer has lined up Arnold Schwarzenegger, who in the post-political phase of his career has been energetically making one deal after another to make new films.
Deadline says the Skip Woods script is about,
an elite DEA task force dealing with dangerous drug cartels that executes a tactical raid on a cartel safe house. It's a ruse, and the DEA squad is stealing the merch. They think they've gotten away with millions, until team members begin getting bumped off.
Open Road now has US distribution rights to Ten. The film is being financed by QED International, which is also behind Black Sands, the action thriller Schwarzenegger will soon shoot under the direction of Scott Waugh and Mike McCoy, the guys who made Act of Valor. Skip Woods did a rewrite on that, too, so the path to getting Ten made is pretty clear.
Schwarzenegger has already shot The Expendables 2 (trailer here) and Kim Jee-woon's English-language debut The Last Stand, and is working again with Sylvester Stallone under the direction of Mikael Håfström in The Tomb, which is shooting now. There's also that Twins sequel Triplets on the distant horizon.