Cool Stuff: Brad McGinty's 'An Anatomical Guide To The Xenomorph' Shirt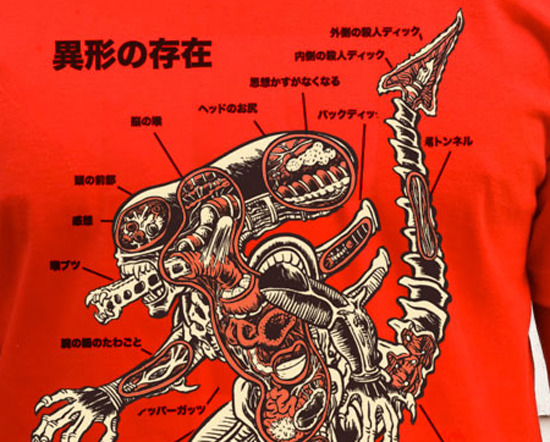 With Prometheus on the way it's a good time to celebrate all things Alien, and Atlanta-based artist Brad McGinty is getting into the action with a t-shirt version of his 'Anatomy of the Xenomorph' print. Based on an old set of Kaiju illustrations, the shirt looks a bit like the classic Alien creature design filtered through the wacky sensibility of the Japanese haunted house film Hausu.
McGinty (who also made a wild set of Christmas cards last year) is taking pre-orders for the shirt now. See the full image below.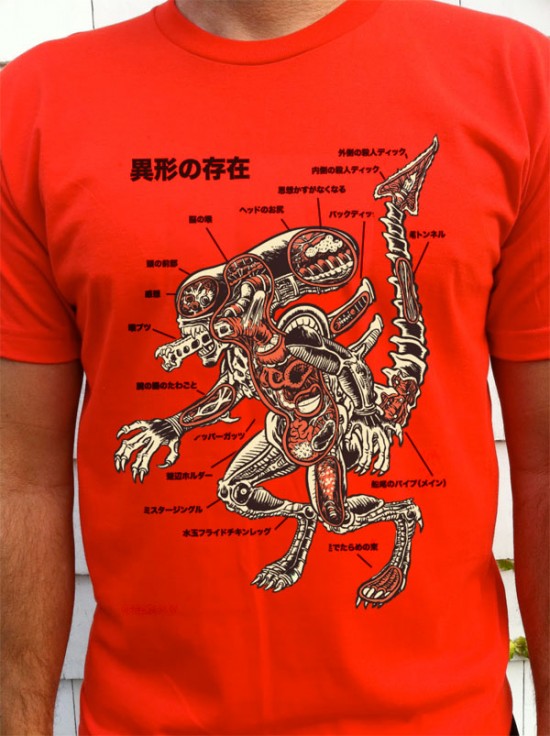 At his site, McGinty explains the basics of the shirt and the pre-order process:
I'm using the American Apparel 100% ring spun cotton shirt in this new Poppy color. The picture above looks a little orange, but you can check out the true color HERE (details on the exact sizing are there, too). It's somewhere between red and orange. The ink colors will be cream and a very dark grey, rather than plain black and white. The second orange color will be created with a halftone screen, so it will look even better than the above image!
I'm not going to print very many of these babies, so I'm taking preorders. This will probably be the only time they will be available online, so If you want one now is your ONLY CHANCE!
UPDATE! I WILL CONTINUE TO TAKE PREORDERS UNTIL THE END OF THE WEEK. THE SHIRTS WILL HEAD OFF ON MONDAY, AND ALL US ORDERS SHOULD ARRIVE THE FIRST WEEK OF JUNE.
The shirts are $20, plus $5 shipping to the US and Canada.