Superhero Sequel Bits: 'Kick-Ass 2' To Hit Next Spring? Plus: 'Avengers 2', 'Iron Man 3', 'Captain America 2', 'Black Widow'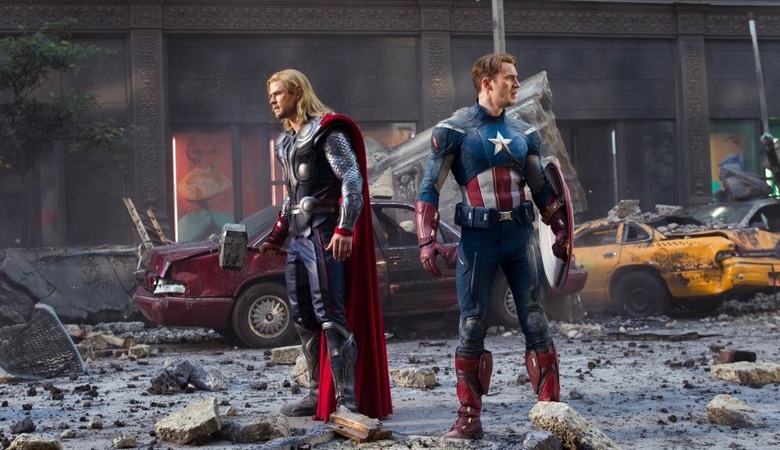 Thanks in a large part to this past weekend's The Avengers, we've got a ton of superhero-related odds and ends for you today. After the jump:
Kick-Ass illustrator claims sequel will shoot this summer
Scarlett Johansson really wants a Black Widow spinoff
Joss Whedon isn't ready to think about Avengers 2 yet
Captain America 2 will be closely linked to Avengers
Ben Kingsley is still developing his Iron Man 3 character
In a World Record signing session that was broadcast via UStream, Millar revealed that the deals for Kick-Ass 2 have just been done, and that the production is gearing up for a summer start with a targeted May 2013 release. This comes as a bit of a surprise, in part because since star Chloe Grace Moretz will be tied up with Carrie this summer, but perhaps the production will work around her schedule. Or perhaps she won't be involved at all.
Romita also added that he hoped to "take charge" on an animated sequence within the film, but revealed few other details. In any case, if Kick-Ass 2 really is shooting this summer, expect lots more updates soon. [Bleeding Cool]
Now that The Avengers is a confirmed smash hit, one big question is whether writer/director Joss Whedon will be back to work his magic on the inevitable sequel. But Whedon himself claims he has no idea at this point. "You know what, I haven't really thought about it," a tired but happy-looking Whedon told Collider in an interview. "It's time for me to rest, and then see if that's even feasible." Fair enough, Mr. Whedon — you've certainly earned that break.
Besides, The Avengers 2 seems a ways off yet. Marvel Studios head Kevin Feige told C.H.U.D. that the film would have to come after Iron Man 3, Thor 2, and Captain America 2:
They have to grow, they have to change. What they've gone through in this movie will impact their state of mind and where they stand in their next movies. Then whatever they go through in those movies is going to affect where we meet them in the next Avengers film. But I think people will be surprised to see, as we go forward – particularly in Iron Man 3 – the notion of how singular the stories can become. Iron Man 3 is a very singular Tony Stark story. As is Thor 2.
Captain America 2, however, may not be quite as standalone as the other films:
Cap, who is stuck in the modern day with no friends or family, there will be some revelations of who is still alive from his days in WWII, but SHIELD and Nick Fury are kind of his confidants right now. So of all these movies, Captain America 2 will be most closely associated with Avengers.
[via CBM]
Meanwhile, there's also the possibility that The Avengers could serve as a jumping-off point for films based on other members of the superpowered team, such as Hawkeye or Black Widow. Or at least, so Scarlett Johansson hopes. The star's been floating the idea of a Black Widow movie while doing press for The Avengers, and she has some ideas about what that could entail:
I love her origin story. I think it's just such a riveting one... It's just steeped in history and the richness to shoot in Russia, perhaps. ... I hope that the fans' voice is loud enough and they want to see a Widow origin story, I know Marvel would be happy to entertain that. We've spoken a lot about it.
Johansson also spoke about how the character has been fleshed out since her first appearance in Iron Man 2:
[In Avengers] you see a little bit about how Natasha joined and it's not that she's fighting for the greater good of humanity. She was almost salvaged by S.H.I.E.L.D. and so she's loyal to that group, to that agency, but only as sort of paid debt.
[via CBM]
Although Iron Man 3 is due to start shooting in North Carolina soon, but recently cast villain Ben Kingsley says he won't be on set for a little while yet. "I'm filming Ender's Game in New Orleans right now and then I go onto a film called The Physician, which is a beautiful film about a physician and then I go into Iron Man."
And then he still has some character work left to do for the film: "Quite soon I'll be with everybody and we'll be discussing the look and the feel and the direction of the character. It's very early days yet, but I'm so thrilled to be on board." [via SHH]