Video Blog: Tim Burton Presents 26 Minutes Of 'Frankenweenie;' Plus New Photos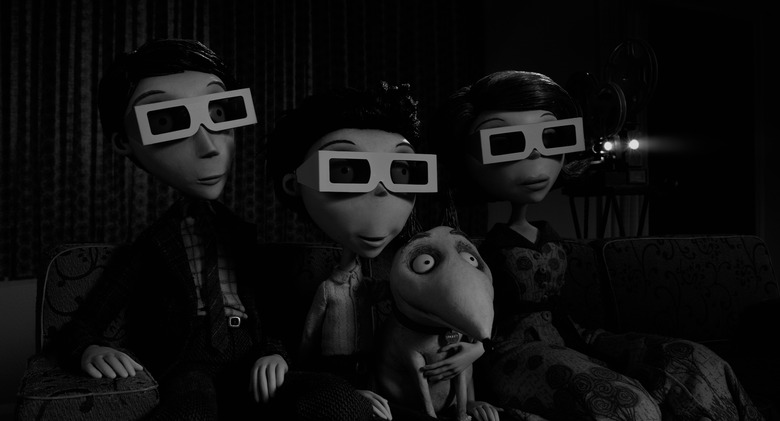 With Tim Burton in press mode promoting Dark Shadows, Disney took the opportunity to show a bunch of journalists scenes from his other 2012 release: Frankenweenie. Burton's 3D black and white return to stop motion animation (after producing The Nightmare Before Christmas and co-directing Corpse Bride) is a re-telling of one of his earliest films, the story of a young boy who brings his dog back to life a la Frankenstein.
Burton specially edited together 26 minutes of footage from the movie to give an idea of the tone, humor and scope of what audiences will see come October 5. Not surprisingly, Frankenweenie is decidedly dark, but with a quirky, fun tone that escalates into something much bigger than the early trailers have suggested. After the jump, check out a video blog I recorded about the footage as well as some new photos from the movie.
Here's the short video blog I recorded about the footage. Thanks to Eric Eisenberg from Cinemablend for the help.
And as a bonus, here are a few newly released stills from the movie including a pre-production sketch of Victor and a green screen image of myself in the movie:
In the video we referred to the film getting much larger by the third act but were reluctant to spoil the surprise. Later, we spoke to producer Allison Abbate who confirmed this wasn't actually a major spoiler and would, in fact, be present in the next phase of marketing. So, because of that, I'm going to talk about it below because I think it will get people more interested in the film. If you don't wish to know, now would be a good time to stop reading.
Possible spoilers below.
In the film, once the town realizes what Victor has done – reanimate his dog – all the kids decide they want to do the same thing. What happens is all their dead pets come back to life, but none of them are as sweet at Sparky, the main character. They're evil, vicious, and in some cases, huge monsters. Frankenweenie goes from being a story about a boy who loves his dog mixed with Frankenstein to a huge battle between the kids of the town and their reanimated, dead monster pets. It looks very, very cool.
Check back soon for an interview with Tim Burton but for now, know that Frankenweenie looks like a very fun, very dark, but very interesting film. It opens October 5.
Here's the short film it's based on. Many of the shots in here are lifted in the new movie, including the very beginning.