Trailer For 'Arjun,' A Disney Animated Movie Produced In India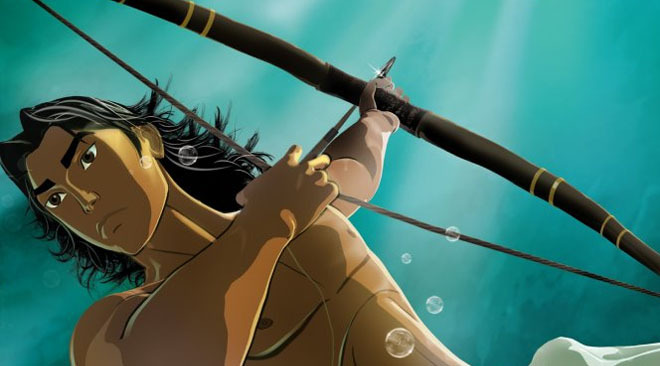 Disney sure loves to buy companies. They own Pixar, they own Marvel and earlier this year they bought UTV, one of the largest media companies in India. A trailer for the first film under this new regime, Arjun: The Warrior Prince, has just been released. The film will be released May 25 in India and is "the untold story of India's greatest warrior." While the animation isn't quite up to Disney standards, it's interesting to see what the Mouse has their finger on in different countries. Check out the trailer after the jump.
Thanks to Cartoon Brew (via Bleeding Cool) for the heads up on this trailer. It's in Hindi, but there are some rough translations below.
While I don't exactly have an idea what's going on specifically, Arjun certainly seems to have a ton of action and beautiful visuals. In some cases, they could be mistaken for classic Disney stuff. In others, such as the hunting scene early on, it looks a layer or two less detailed from the kind of animation we're used to seeing. The blend of CG elements with animation also isn't as clean as we usually see in Disney films, which makes sense as the film has been in production for four years, well before Disney took control of UTV. Still, slap some English subtitles on this thing and I'd check it out.
The Cartoon Brew article offers the following translations to what's being said if you're wondering:
"Have the mothers of earth stopped giving birth to brave men?"
"Is there an archer (who can accomplish this)? Is there?!"Drona: "Yudhishtira, what do you see?"Yudhishtira: "Ten mango trees, three Bo-trees and one Audumbar tree."Drona: "Move aside! Arjun...?"Arjun: "My eye sees only the eye of the bird, teacher."Drona: "Then release the arrow!""If you have to break the Pandavas, then first attack... Arjun!"Draupadi: "Give me your word – that you will take vengeance for my humiliation from all the Kauravas!""Create the chakravyuha (circular formation)!"Drona: "Get ready for battle!""Forget about victory and defeat – focus on action and you will fear nothing."
What do you think about Arjun?
Image: www.animationsfilme.ch