'End Of Watch' Trailer - Jake Gyllenhaal And Michael Peña Patrol The Mean Streets Of South Central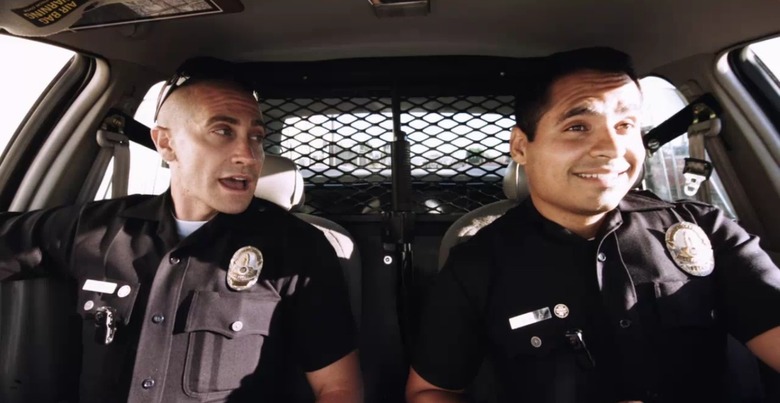 As the writer behind Training Day and the helmer of Street Kings and Harsh Times, David Ayer's clearly got a deep and abiding interest in the LAPD. So it's no surprise that his latest directorial effort, End of Watch, centers around that same theme.
Jake Gyllenhaal and Michael Peña star as a pair of young officers assigned to some of Los Angeles' roughest neighborhoods. Though the guys are used to being targeted — as one of them says, "We're cops, everyone wants to kill us" — when they stumble upon a dangerous discovery, they find themselves in the crosshairs of a drug cartel. Watch the trailer after the jump.
[via Yahoo!]
The found footage-style cinematography is bound to turn off some folks, but I think it works here if only because it helps set End of Watch from a million other similarly themed cop dramas. Then again, there's a vast difference between watching that for two minutes on a small computer monitor and putting up with it for two hours on a big theatrical screen, so that may not prove to be such a good thing after all.
Also starring Anna Kendrick, Natalie Martinez, America Ferrera, and Frank Grillo, End of Watch opens September 28.
A powerful story of family, friendship, love, honor and courage, End Of Watch stars Academy Award® nominee Jake Gyllenhaal and Michael Peña as young police officers Taylor and Zavala as they patrol the city's meanest streets of south central Los Angeles.
Giving the story a gripping, first-person immediacy, the action unfolds through footage from the handheld HD cameras of the police officers, gang members, surveillance cameras, and citizens caught in the line of fire to create a riveting portrait of the city's most dangerous corners, the cops who risk their lives there every day, and the price they and their families are forced to pay.